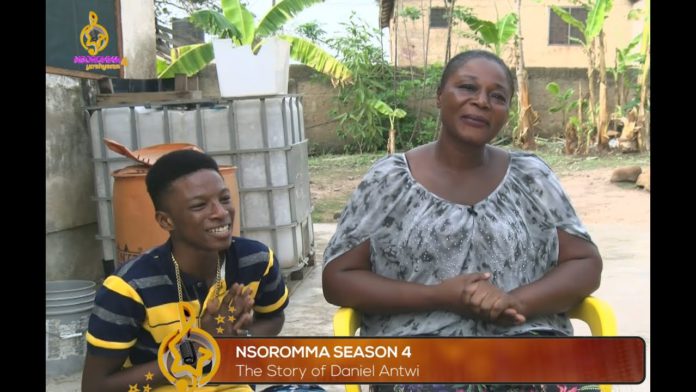 Ahead of the finals on Sunday, April 10, 2022, finalists of Adom TV's Nsoromma Season 4 have been featured in solo documentaries, throwing light on their journey before and after they joined the music reality show.
Below are various videos of the documentary:
Francisca Adom
Francisca Adom is a child who had interest in singing when she was young. She loves to sing a lot. When she was a baby, I used to sing for her so when she reached the age of 2, while carrying her, you will see her singing, her mother Rebecca Nuetey said.
The singer forms part of the finalist and her mom is poised about her daughter winning the competition because she has been singing right from a young age.
I had no hope that my child will be able to get to where she is right now because we are from the village but God being so good, she was among the 30 contestants selected by the judges.
Her Head teacher for St. Joseph Ultimate Preparatory school, Mr Joseph Amoh Tetteh tagged her a disciplined child who will go far in life.
Francisca is someone who is fearless, serious, and whatever she does, she do it with all her heart. She doesn't despise herself among others when she is doing something. She is humble, and when it comes to academics too, she is unique.
Samuel Sam
Samzik, when he was a child, loved music and is interested in everything that concerns music so you will often see him gathering tins from used tomato paste, arrange them and will be drumming. He didn't have a good voice at that time because singing is part of the family. My wife, children and myself all love to sing, his father, Mr Samuel Manso told Adom TV.
He further told the Adom Nsoromma crew that the music reality show gave his son the chance to explore his talent into the deep.
He was happy when he came back from Nsoromma audition and he started revealing some other hidden talent to us for us to know that indeed, he has the singing talent.
Meanwhile, the mother of Samzik, Filicia Nomoah tagged him as a respectful son who shows maturity in everything he does.
Samzik is someone who is respectful and goes to wherever you send him. When engaging him in a conversation, how he will talk back to you shows some maturity, so this made me give him the name 'Akokora' even before he joined Nsoromma.
Lady Theodora
Mother of contestant Lady Theodora aka Lady T, Eunice Karikari Pascal is confident of her daughter's star in the Adom TV Nsoromma competition.
To her, her daughter was born a natural singer. She gave a little history to support her statement.
At the age of 4 years, I attended a church rehearsals with her and at the rehearsals, the one who was to lead the song was having difficulties with the song because it was a high key. So Theodora opted to sing the song and most of the choir members thought she was kidding because she wasn't part of the members. So when she took the mic, she sang the song without any difficulties so she was made to lead the song at church the following day.
Talking about her Nsoromma journey, she said: she went for the audition last two years but wasn't picked and this year she told me she had a feeling that she will be picked this time around and it happened.
Keziah Adu
Father of Nsoromma finalist Keziah Adu, Mr William Narh says her daughter started singing at the age of 3.
When she was 3 years, we noticed that the Sunday school ministry always wanted her to lead their songs when she goes to church. So whenever she is around, you will see that the children are around her and want to listen to whatever she says. So that was the time we got to know that she has that talent and we informed her Sunday school teacher about it and she was being monitored.
Meanwhile, her mother Margaret Narh said it was ordained to her daughter to sing. She told the story of Keziah explaining to her that she wanted to be a singer after she had a spiritual encounter.
We were in the village drying our cocoa bean when she sought for permission to go to the washroom. She told me that while in the washroom, she heard a voice telling her that she has to be a singer so I told her that the Holy Spirit should help her to be able to sing.
From there, she went to the verandah and sang for a long time till someone who was passing by asked me that where the noise is coming from and I replied that it is the doing of the lord. So that was how I realized that my child has a talent. She sometimes gathers the children to do praises with them, she told the Adom Nsoromma crew.
Nhyira Akoto Afriyie
The Uncle of Nhyira Akoto Afriyie, Nana Yaw Osei said it was no wonder that she was selected for the Nsoromma competition because music is her talent.
When her mother was pregnant with her, myself and my wife decided to take care of her. She was with her mother until we took over in 2020 till now. So for about 3 years now, she's been with us. When we saw that she is good in music, especially when she goes to church, we decided to let her join Nsoromma, so we sent her to the audition of Nsoromma season 4 and by God's grace she was selected.
In my family we all sing so when we see someone who is talented, we see. We weren't surprised when she was selected among the 30 contestants because we knew who she is. She is someone who is very reserved and when she comes back from the show, you won't even know that she's someone who can sing, he added.
According to him, after she was chosen in the competition, he hardly allows the fame to get into her head.
Due to the fame she's gotten, we don't let that go into her head but rather we help her to learn as well. We make sure she's done her homework before she even start to learn the song given her for the competition
Nhyira's aunt, Mrs Doris Osei says she has also become famous after she allowed her into the competition. She however explained that, Nhyira is very respectful and continues to do her chores as required of her.
When she comes home, whatever house chores I tell her to do, she does it even after joining Nsoromma, she still do what is expected of her. She is someone who is very reserved but is different when on stage. Sometimes when you ask how she was able to perform like that, she herself look surprised. I am very popular because of my daughter, especially when I am at church. Most church members refer to me as 'Nsoromma maame'.
With her headmistress of Sacred Heart School Complex, Mrs Margaret Kudjo said it is no wonder that she forms part of the school's choir.
Nhyira is a student of sacred heart school complex. She is humble and we saw that she has interest in music so she is part of the school choir. We know that singing is part of her family so we are not surprised that she's doing well.
Meanwhile, one of Nhyira Akoto's friend, Nelly Owusu could not downplay the excitement she felt when she got the news that her friend has been chosen for the music reality competition.
When I heard that Nhyira is part of the Nsoromma show, I was very happy. She wrote a letter to me the very Friday she was going for the show and I was very happy when I read the letter.
Another friend who goes by the name Emmanuella talked about how emotionally intelligent she is.
What I like about Nhyira is that she is very lively and laughs a lot. She always wants to calm you down when you are down, crying or in a bad mood. She has the voice too and when she sings, it's as if an angel has come down the voice is so sweet.
Anita Anim
The mother of Anita Anim, Mary Ackaah says she was surprised when her daughter told her that she has written 7 songs at the age of 8.
According to her, she doesn't need anything else to believe that she was already a music star before Adom TV's Nsoromma projected her to the world.
I got to know that she has a singing talent when she was 8 years. Sometimes, on my way home from work, I can hear her singing from afar so it got to a point, she told me she has written a song and truth be told, she had written 7 songs when her father glanced through. So I told her she's young and so when she sings it now, it won't help.
Her Headmistress of Bethel Educational complex, Leticia Kudjoe praised her student for bringing honour on the school.
She said she has to forgo whatever she is doing to watch Anita when it is time for Nsoromma on Sundays.
When it's 4pm and I am somewhere, I wish to get home early just to watch Anita and I make sure I am behind my television exactly 4pm. Adom TV's Nsoromma show has really helped my daughter in her music journey and I am very grateful to them. She is not only good at singing, she is academically good too and a very respectful girl
One of her friends, Jessica Mensah thanked Adom TV for giving her friend the opportunity, adding that, she is a respectful person.
Anita is friendly, she is a good girl and very active too. She is very punctual and someone who is not a fun of insulting someone too.
Daniel Antwi

Daniel is someone who is gifted with singing because he used to sing very well at the age of 6 and anytime he hears me singing, he joins to sing it. When he showed interest in joining the Nsoromma show, I didn't know anything about that so I told him I won't be able to sponsor him if he will be going with a car. He later told me that his teacher has supported him to the audition and that he has been selected, mother of finalists Daniel Antwi, Rebecca Takyiwaa speaking on her son's Nsoromma journey.
He is always singing, even when he is taking his bath. I sometimes complain about it but you will see him singing again few minutes later so I decided to let him be. Whenever my son's name is mentioned, I feel something unique within me just for people mentioning his name, she added.
Meanwhile, Daniel's class teacher, Mr Evans Adjei says he believed in Daniel's voice hence he couldn't allow the competition to go him by.
I believed in Daniel because he had a good voice so we decided to try him by sending him to Nsoromma for us to know the talent he has within. Daniel is someone who is very shy, even when he has to do something in front of a crowd, it is a very difficult thing for him to do but after joining the competition, there has been a lot of changes in his life. Now, he is able to perform in front of a crowd for people to admire him, he told the Nsoromma crew.
Additionally, the headteacher of Pokua Academy, Mr Johnson Atta Poku expressed gratitude to Adom TV for putting up the competition.
We were all happy when he informed us of him being selected because we wanted him to exhibit his talent since he is talented. I wanted to see my student heading somewhere so I was very happy for the first time I saw him, Mr Atta Poku added.
To climax the interview, the best friend of Daniel, Bernice Awuni talked about how she got informed about Daniel's selection on Nsoromma.
When he was in school, we use to eat together until a day before his departure, he told me he is joining the Nsoromma show.