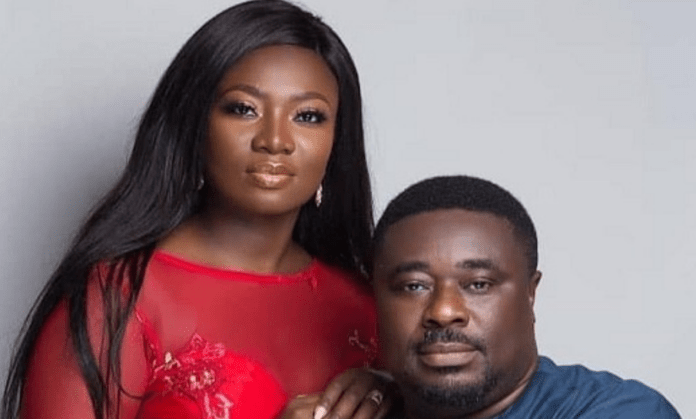 Musician and radio presenter, Daniel Kofi Amoateng aka Okyeame Quophi, has opened up on his wife, Stacy Amoateng's sudden sickness, claiming it was a suspected spiritual issue.
His wife, also a TV presenter, was known mainly for co-hosting TV3's 'Music Music' live music show with Bola Ray but resigned in 2012.
She was off the screen for a while and not much was publicly said about it.
However, some news reports in 2013 said she was diagnosed with appendicitis.
In a recent interview with Kofi Adomah, Okyeame Quophi explained that his wife started complaining of a stomach ache in late 2011.
He said the situation landed them (Stacy and the children) at the Edumfa Prayer Camp, Cape Coast in the Central region because the illness persisted till 2012 even after she had had surgery.
Their stay at the Edumfa Prayer Camp at Cape Coast, he said, lasted for a year.
Narrating what led to their going to Edumfa, Okyeame Quophi said he received a call from gospel musician, Cecilia Marfo to send his wife there as it was revealed to her that she was unwell.
MORE:
According to him, it was only close relatives who knew about her condition so he was surprised that Cecilia Marfo spoke of it.
"It was a Wednesday evening, I was live on radio which is Rainbow Radio when Cecilia Marfo called me and asked where my wife was. I told her she was at home and she said I have seen that she is unwell and truly, nobody knew about Stacy's condition. We were managing it because she is a celeb," he revealed.
Okyeame Quophi said it was at the prayer camp that the cause of his wife's sickness unfolded and it had to do with her clothes a friend of hers came for.
According to him, this friend came around one morning saying her door got locked and that she had to shower to get ready for a meeting.
"So we opened the door and she took a shower in our house, eventually took her dresses (Stacy's). She wore one and took an extra one and even took an extra panty (new)," he said.
The friend, a lady, Okyeame Quophi said returned only one of the clothes she took and Stacy's situation started some months after.
He added that the lady also owed his wife.
The radio presenter revealed that their stay at the prayer camp inspired the Restoration with Stacy show which airs on Joy Prime.