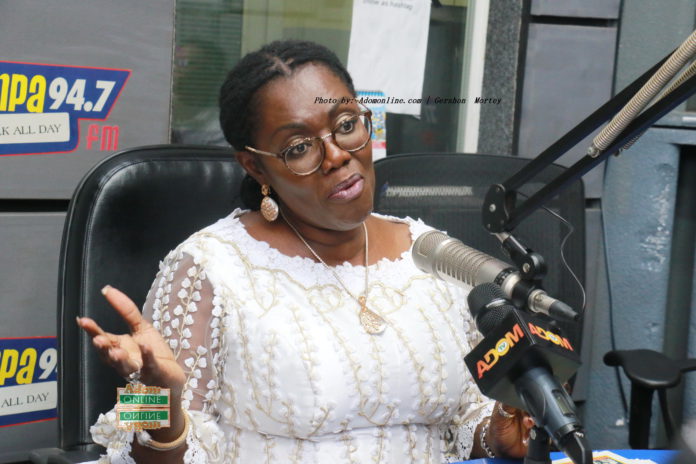 Minister for Communication and Digitalisation, Ursula Owusu Ekuful turns a year older today, October 20, 2021, with social media buzzing over the celebration.
Many Ghanaians have taken to social media to post heartwarming and goodwill messages to mark the day.
Madam Ekuful doubles as the Member of Parliament for the Ablekuma West constituency.
She is admired by many for her strong will and commitment to duty.
Taking to her Facebook page to celebrate herself, she made a short but powerful declaration over her life.
She wrote: Goodness and mercies shall follow me.
Read more birthday messages below:
ALSO READ:
Happy birthday to @UrsulaOw Hon. Ursula Owusu-Ekuful, The Queen of Digitalization. God bless you 🙏 pic.twitter.com/lBEempVrR1

— Ruth Akua Moda (@moda_ruth) October 20, 2021
Happy birthday to the Minister of Communication & Digitalization and Member of Parliament for Ablekuman West Constiuency,@Hon. Ursula Owusu Ekuful, a.k.a The Queen of Digitalization. pic.twitter.com/LBWOfs1PBd

— Charles N.T. Tagoe (@royaltcafe2012) October 20, 2021
Happy birthday to Hon. Ursula Owusu-Ekuful, The Queen of Digitalization @UrsulaOw#BecomeYourOwnBoss #HappyBirthdayUrsulaOwusu pic.twitter.com/vnZaxpnPuh

— Academy of Tweet Professionals (@RealAnalyticsPR) October 20, 2021
Happy birthday to Hon. Ursula Owusu-Ekuful, The Queen of Digitalization#HappyBirthdayUrsulaOwusu pic.twitter.com/mifkgv6Zl8

— Katakyie K. Karikari (@Okat_KKarikari) October 20, 2021
Happy Birthday to the Honorable Minister of Communications & Digitization, Hon Ursula Owusu Ekuful (@UrsulaOw). We wish you long life and many prosperous years. pic.twitter.com/ZFblOAjSvB

— Twitta Patriots (@TheTPatriots) October 20, 2021
*Happy birthday to my Hardworking boss, Hon. Ursula Owusu-Ekuful, The Queen of Digitalization*

Your leadership has revitalized the Communications Industry. The many innovative Digitalization programmes and interventions @UrsulaOw pic.twitter.com/oPmL1fatUS

— BESIABA (@BESIABA1) October 20, 2021