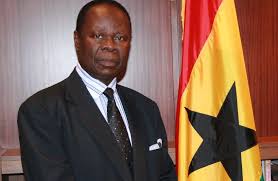 Ambassador Daniel Ohene Agyekum, the 2020 Campaign Manager for the former President John Dramani Mahama has shot down suggestions of being a possible running mate.
He said he has no ambition to become vice president and is very content as a career diplomat, a role he wants to enjoy than being a full time politician.
He was responding to a question by host of Asempa FM's Ekosi Sen if he would accept to become a running mate of the former President after serving him as the campaign manager.
ALSO: Ofosu Ampofo leaked tape fake – Sammy Gyamfi
"When I went to school, I learnt so many things but I always wanted to be a career diplomat. I have never had any vice president ambition. I have never dreamt of it. If Mahama should call me today and tell me to be his running mate, I won't" he said.
The NDC on Saturday overwhelmingly elected Ex-President Mahama to lead the party for the second time in four years after he failed to win power in 2016.
LISTEN: Audio: NDC man confirms viral tape is National Chairman
He polled 213,000 votes representing more than 95%
of votes cast.
There are suggestions the Ex-President may turn his attention to the selection of Running Mate after that resounding victory at the primaries.
ALSO: Listen: How NDC chairman declared 'war' on EC chair
But Ambassador Agyekum who claimed to have politely
rejected a Chief of Staff appointment from late Atta Mills for an ambassadorial
position does not want to be associated with that vacant position.