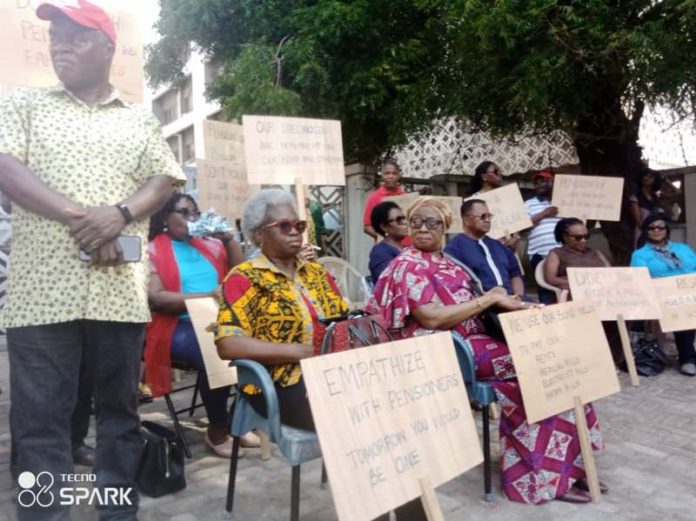 After what appears to be an unsatisfactory crunch meeting with the Finance Minister, the Pensioner Bondholders Forum plans to continue picketing the Ministry on Monday, February 13.
The pensioners earlier Friday, had a meeting with officials of the Ministry to deliberate on their demand for total exemption from the Domestic Debt Exchange Programme (DDEP).
At the meeting, the Convener of the forum, Dr Adu Anane Antwi, said the meeting did not yield the expected result since the Minister maintained his stance of including them in the restructuring.
Narrating the Finance Ministers' response to their demands, he said "well he has not gotten any other response to show."
Dr Antwi added that they insisted on total exemption.
He explained that Ken Ofori-Atta was concerned about tradability. However, he said they were interested in keeping their bonds since they can continue enjoying benefits from their coupons.
Speaking in an interview with JoyNews on Friday, Mr Antwi explained total exemption is the best for them because the risk associated with it is lower.
"What we want is exemption, there can be risk while you have exempted us, but I said the risk to be associated with exempted bonds is much, much lower than the risk associated with those that were not exempted bonds," he said.
Touching on their next line of action, he said, they are waiting for the Minister to come up with a plan until then, picketing will continue.
"We want the exemption so he should look at his figures and come and tell us, otherwise we will keep on exercising our rights to be picketing here… on Tuesday, we will go and see what will happen in Parliament," he added.
Earlier l, the Former Chief Justice, Sophia Akuffo, joined pensioners picketing the Finance Ministry to demand a total exemption of their investments in the controversial Domestic Debt Exchange Programme (DDEP).
Mrs Akuffo was seen holding a placard with the inscription 'We depend on our bond yields to pay our rent, medical bills, electricity bills and water bills.
She said as long as the situation has to do with the contractual rights of pensioners, she cannot sit unconcerned.
"I'm seeing it purely from a legal point of view, their contractual rights being threatened. Then I have to say something. I have to join them in solidarity. Their pain is my pain because I have retired sisters, I have retired friends, and so on and so forth," she said on Friday.
Mrs Akuffo further explained that her ample retirement benefits by virtue of her position does not prevent her from solidarising with her peers who are not so well-to-do.
ALSO READ:
"I find it wicked, I find it disrespectful, I find it unlawful, I find it totally wrong, period! Because you don't solve your problems by sacrificing your aged. That is the last thing you should do," she told JoyNews.