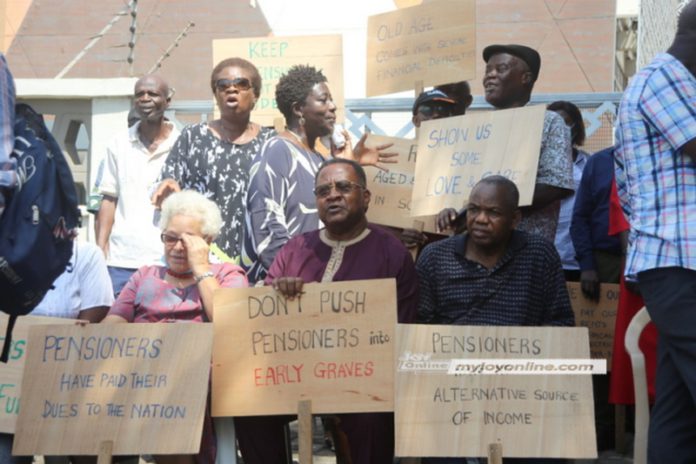 The Pensioner Bondholders Forum says it will be in Parliament to observe proceedings as the Minister of Finance, Ken Ofori-Atta, makes an appearance before the Business Committee of the House on February 14.
This comes after the Speaker of Parliament, Mr Alban Bagbin, directed the Committee to summon the Minister to brief the House on the Government's Domestic Debt Exchange Programme (DDEP) that targets bond holdings of pensioners.
Dr Adu Anane Antwi, the Convener for the Forum, stated this in an interview with the Ghana News Agency on the fourth day of picketing at the Ministry of Finance premises.
He said: "We will be at Parliament, not to picket though, because we don't have any issue with them (Members of Parliament). We will sit at the public gallery to listen and observe proceedings."
Pensioner Bondholders started picketing on Monday, February 5th, at the Ministry of Finance to demand total exemption from the Domestic Debt Exchange Programme (DDEP).
Government under the programme is proposing an exchange where maturity period of bonds of 12-15 years could be reduced to 5 years with the reduction of returns on bonds moved from the average of 18 and half per cent to 15 per cent.
Pensioners are, however, adamant to the proposal stating that the exchange programme would hurt their livelihoods, saying their lives in retirement were planned around earnings from such bond investments.
Dr Samuel Armah Quaye, a retired 81-year-old private medical Practitioner, said he was in dire need of medical care hence extending his maturity period to 5 years was not proper.
"How can I wait for 5 years? I need money for my dialysis. I need my money, " he said.
Dr Millicient Cobblah, a pensioner who was a lecturer at the Department of Animal Biology and Animal Conservation Science at University of Ghana, said government must leave pensioners alone because they had paid their dues to the nation.
Madam Kokui Adu, a member of the Forum, said exempting the contributions of pensioners would not derail the programme because their contribution was marginal, adding "we are not that powerful".