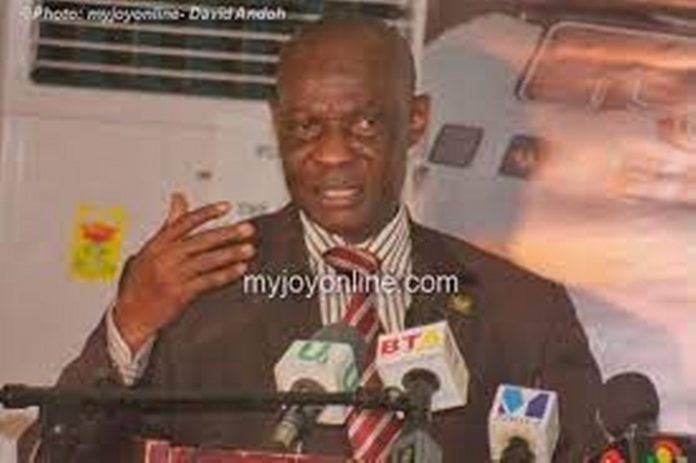 The leader of the pensioners who picketed the Finance Ministry, Dr Adu Anane Antwi, has denied reports that he received death threats for their action against the Debt Exchange Programme.
Dr Antwi, who is also a former Director-General of the Securities and Exchange Commission, said he became aware of claims on social media that he was receiving death threats.
"Somebody tweeted that I have received threatening messages. Nobody has threatened me, I don't know where that is coming from," he said on Accra-based TV3.
He further announced that their demonstration is over because they have gotten what they wanted from Finance Minister, Ken Ofori-Atta.
Dr Antwi said " we went to the Finance Ministry today to just thank [Ofori-Atta] for granting our request, it wasn't for any discussion. The picketing is over because we have gotten what we wanted."
Mr Ofori-Atta assured the pensioners that nobody is going to be punished for whatever reason in relation to the DDEP.
He said that matured coupons will be honoured after Tuesday, February 21, 2023.
A statement he issued after pensioners called on him on Friday, February 17 said "settlements will be made after Tuesday, and then we can begin to look at processing everybody's [bonds]".
The statement added: "But let nobody have any inkling that anybody is going to be punished for whatever reason. All coupons will be attended to the same way in which the contracts were signed.
"We are in a difficult situation, that is why we are doing the debt exchange programme and so we hope that the percentage of bonds signed onto the programme will bring down our interest on debts and give us the fiscal space to honour whatever commitments we have with our bonds."
Earlier, Dr Antwi said they were fighting for Issuer Exemption and not self-exempt.
He stated that the two were completely different.
ALSO READ:
You can't ask pensioners to pay for your mismanagement – Nunoo-Mensah to govt
"If you don't understand the issue between self-exempt and issuer-exempt you will not understand what we are doing," he added.
He added: "Nobody fights for self exempt, we are fighting for Issuer exempt and we haven't gotten it.
"These are technical things, not even people in securities understand unless we do the analysis. We want to be at the issuer exemption status."