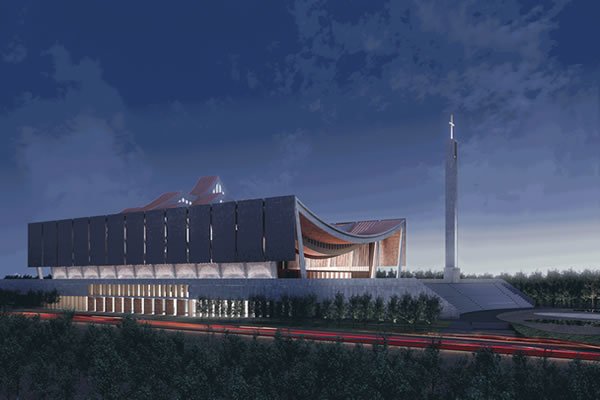 National Democratic Congress (NDC) Eastern Regional Chairman, Dr Mark-Oliver Kevor, has backed the proposal of the Trades Union Congress (TUC) for the National Cathedral project to be converted into a hospital.
According to Dr Kevor, that is what the NDC will do when voted into power in the 2024 general election.
"If we still continue conversations about whether we should build a National Cathedral with over US$ 1 billion, it means that as a country we have no priorities.
"If he (President Akufo-Addo) does not do it, I believe NDC's next government will do it. When voted into government, you represent the aspirations of the people. You do what majority of the people want," he said on Adom TV's Badwam show.
He stated that the opposition party will heed the cries of the majority of Ghanaians regarding the project.
"The TUC General Secretary made reference to the cathedral in France, Notre-Dame which was built 182 years ago, not under a president's one term. Spain has a cathedral which is still undergoing construction after 138 years.
"You may have the vision but you don't use over US$ 300 million for the building of a National Cathedral. Meanwhile, Ghana is in need of a US$3b loan from the IMF. If the IMF learns about this, do you think they will be pleased?" he quizzed.
Dr Kevor opined that if the funds used so far for the National Cathedral were diverted into the Agenda 111 projects, some districts will have health facilities.
"How many hospitals have been built? It is not like we've reached a certain threshold where we can say our health system is optimal. We haven't even gotten there.
"If they pumped the money they have used so far into the Agenda 111 project, several districts nationwide would have newly constructed health centres," he said.
Speaking at the 2023 May Day celebration parade at Bolgatanga, the TUC General Secretary, Dr Anthony Yaw Baah, urged the government to halt spending on non-essentials like the National Cathedral.
He suggested that it would serve the country better if the project was converted from a cathedral into a national hospital instead.
"We have to change the situation ourselves as Ghanaians. We believe strongly that government can lead us out of this crisis, and the government can do so by cutting expenditure on non-essentials including the need to stop spending our hard-earned revenue on a national cathedral.
"The president has always said he wants to create another Notre Dame in Ghana so we can attract a lot of visitors but we disagree. In fact, comrades, it will be better to convert the project into a national hospital," he said.
ALSO READ: