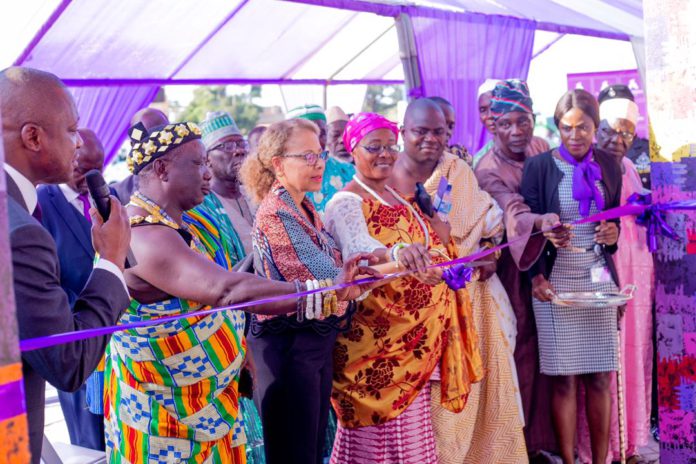 Executive Director for Corporate and Investment Banking at First Atlantic Bank, Daniel Marfo has urged Ghanaians to have confidence in the banking sector because "the Bank of Ghana clean up of the financial sector is over."
He said the Central Bank's recent shakeup in the sector was a necessary evil that was long overdue, but it is all over so Ghanaians can relax and do business with players in the industry.
Daniel Marfo was speaking to Adom News at the opening of the 37th branch of First Atlantic Bank at Ashaiman here in the Greater Accra Region.
First Atlantic Bank, is a three-time winner of Best Bank in Customer Care in Ghana, and it is one of the few surviving banks post the massive clean-up.
Daniel Marfo said the opening of the new branch is part of the bank's efforts to boost investor and client confidence.
"The new branch is to provide ease of access to our growing clientele within Ashaiman and its environs," he noted.
According to Daniel Marfo, the initiative forms parts of the bigger vision of the company to continually deepen their relationship with customers.
"In keeping our promise to deepen our relationship with you, our valuable customers, we're officially opening our 37th branch. Our branches are strategically distributed across the country. This also forms part of our promise to develop products and services to help our customers…" Mr. Marfo said.
He added that the bank will continue to provide all existing services to customers at the new branch.
"We offer products such as the Atlantic business savings…Business flex, Atlantic trade facility. Additionally, First Atlantic Bank offers one of the safest customer-friendly electronic baking product, suitable to ensure that businesses go on very well uninterrupted. We also facilitate remittance from the diaspora to our valued customers…" he noted.
Other products and services include; Internet Banking, Mobile Banking, POS Channels, Cards – Local pre-paid, Visa Debit and Prepaid, Mastercard Debit as well as American Express Cards.
First Atlantic Bank has partnered with seven international remittance service providers, they are; Money Gram, Western Union, Ria, Small World, Transfast, Money Exchange and Unity Link.
First Atlantic electronic services are covered by the internationally acclaimed PCIDSS and ISO 27001 security certification.
Source: Samuel Dowuona