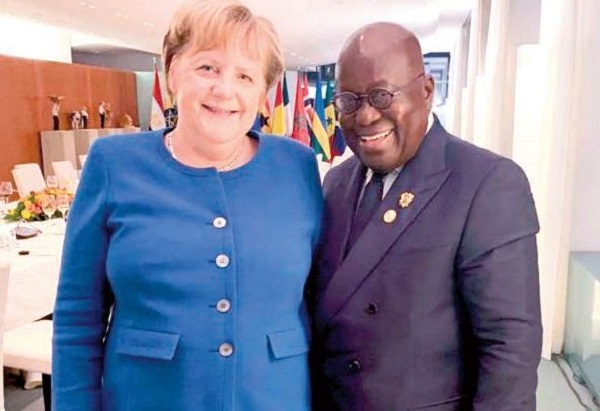 President Nana Addo Dankwa Akufo-Addo has said his determination to ensure cocoa farmers get value for money for what they produce is on course.

"Ghana has instituted a strategic partnership with President Alassane Ouattara of Cote d'Ivoire to develop our cocoa industry," he said and added that the joint effort would bring joy to the poor farmers who have suffered at the hands of major foreign trading partners who rely on cocoa beans from West Africa.

President Akufo-Addo was speaking last Tuesday in Berlin during the 3rd Compact with Africa Summit.

He was among 12 selected Heads of State and government who converged on the capital city of Federal Republic of Germany.

The compact meeting is held every year at the instance of Chancellor Angela Merkel to ramp up investment opportunities for these countries.

During an elaborate presentation of a 'German Business and CwA Countries' with emphasis on Ghana's cocoa sector, Hendrik Reimers, Founder and Chief Executive Officer (CEO) of Fairafric said they were bringing a processing factory to Ghana.

He said the family which owned German chocolate manufacturing company based in Munich is coming with a 5m Euro factory to Suhum in the Eastern Region.

After the presentation, President Akufo-Addo took his turn and said "the facts that are being put out about the farmers who produce the raw materials, who are the tiny bit of the value chain of the raw material, should be of interest to everyone."

He said "so we have now made a conscious effort and are moving away from the situation where we are just exporters and producers of the raw material to ramping up the value chain in our home countries and this is a spectacular example of what the future holds for our country."

Strong Partnership

In September, Ghana and Cote d'Ivoire agreed an initial deal to sell cocoa with a living income premium of $400 a tonne added to the price in a bid to reform the way global cocoa is priced.

In a move aimed at easing pervasive farmer poverty, the West African neighbours, who together produce more than 60 per cent of the world's cocoa, introduced a Living Income Differential (LID) in July on all cocoa sales for the 2020/21 season.

Even French Chocolatier Cemoi, according to Reuters, confirmed it had bought cocoa from Cote d'Ivoire and paid the $400 a tonne LID, while trade sources said Sucden, Barry Callebaut, Cargill and Olam had done similar deals.

Cocoa prices on ICE Futures Europe hit a one-year high of 1,939 pounds ($2,424) in July, in anticipation of the pricing move by the West African producers.

Chocolate makers and grinders have publicly expressed support for the LID, though traders have privately said the plan could lead to surplus production and might eventually prompt them to seek other sources of supply.

Cote d'Ivoire and Ghana have so far sold around 20,000 to 25,000 tonnes with the premium attached and the bulk of an expected 2020/21 harvest of 2.5 million tonnes is yet to be sold, although it is still early in the marketing campaign.

The two countries plan to use funds raised from the LID to guarantee farmers get 70 per cent of a $2,600 a tonne (FOB) target price. If global prices rise above $2,900, proceeds from the LID will be placed in a stabilization fund that would be used to ensure farmers get the target price when market prices fall.

The LID is not the first attempt to combat farmer poverty.

Third-party certification schemes, corporate sustainability programmes, and government-guaranteed minimum prices have aimed to tackle farmer poverty and deforestation, a related scourge which also threatens the sector's future in West Africa.
Source: DailyguideNetwork.com