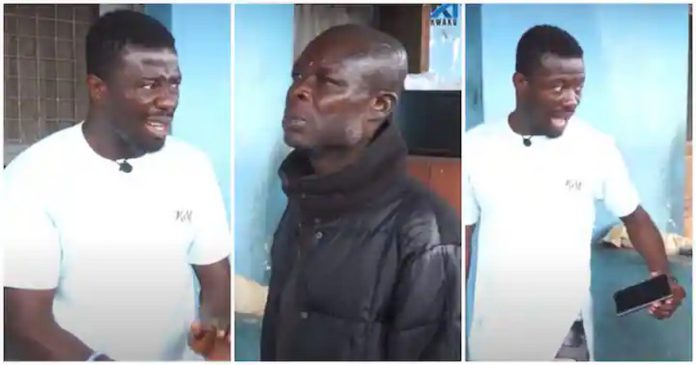 Popular Ghanaian actor Kwaku Manu, also known as Bob Sika, has interviewed a man who claimed to have been a thief for nearly 25 years, starting his criminal journey in 1998.
As the conversation unfolded, Kwaku Manu made a startling discovery—the man was a suspect in a previous incident involving stolen items belonging to the actor himself.
The interviewee, whose real name was not disclosed, revealed that he originated from Bono Ahafo Region and had fled to Kumasi to continue his illicit activities after losing a fellow thief.
He admitted to preying on innocent victims through various means, including pick-pocketing, home burglaries, and setting up roadblocks to rob unsuspecting passengers.
As the ex-convict elaborated on his methods for executing house robberies, Kwaku Manu grew increasingly concerned when he realised that a similar incident had occurred at his school in Brofo Yedur, a town in Kumasi.
Recounting his own experience, Kwaku Manu said "someone has done a similar thing to me before. When I woke up, my trousers had been taken, and my money was not in it."
Intrigued by the resemblance between the two incidents, Kwaku Manu questioned the ex-convict if he had been involved and if he was responsible for the robbery at his school.
However, the man denied any knowledge of the specific incident, despite providing detailed information about what had transpired and even correctly identifying the location of the robbery.
The revelation left Kwaku Manu puzzled, as the interviewee's denial contradicted the evidence presented.
The actor's suspicion grew, suggesting a potential connection between the ex-convict and the robbery at his school.
READ ALSO: