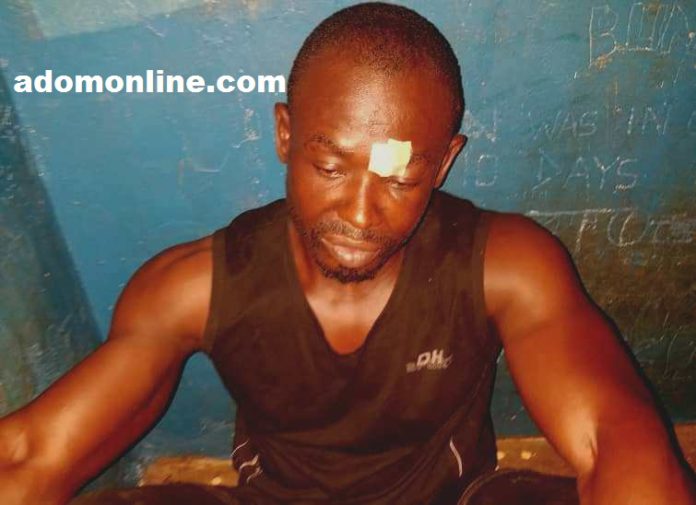 Police at Effiduase in Ashanti Region have arrested a 37-year old ex-convict for car snatching.
Charles Frimpong who had spent seven years in prison for stealing is alleged to have seized vehicles at gun-point from their owners on at least, four occasions.
He was picked up at about 2 a.m. at a police checkpoint on board a hired taxi cab police suspect he had intended to forcibly take from the driver.
Effiduase Divisional Commander, ACP Philip Asante, tells Joy News Charles Frimpong had succeeded in snatching four vehicles from their owners last year.
He says the suspect operates alone, luring taxi drivers under the pretext of hiring their services from Kumasi to Effiduase, only to rob them off their vehicles.
ACP Philip Asante said the suspect was arrested at dawn on Wednesday at the Police Barrier in Effiduase.
"A polythene bag was at the front seat of the car which the passenger claim belonged to him. When the police officer questioned him about the contents of the bag, he [suspect] told said it was some pictures and other documents."
That, however, turned out to be false. After the officer looked inside the bag, he found a pistol.
According to ACP Asante, a search on the suspect revealed he had no money on him even to pay for the hired taxi.
He says the suspect appears to be very familiar with the terrain which he is exploiting.
"Because he is from Effiduase, he knows all the corners here. Similar incidents occurred at Ntumkumso, Banko, Effiduase, the Kwamang road and on Kumawu road.
"He will not take you to a place where you can get help. In the middle of the road, he pushes you down at gunpoint, collects your phone, takes your keys and off he goes. So before you get to town to call for help, this man would be gone with your car".
Charles Frimpong's areas of operation are Ntumkumso, Banko, Effiduase as well as Effiduase-Kwamang and Effiduase-Kumawu routes, all in the Ashanti region.
Source: Ghana I Nhyira FM I Ohemeng Tawiah I ohemengtawiah@gmail.com