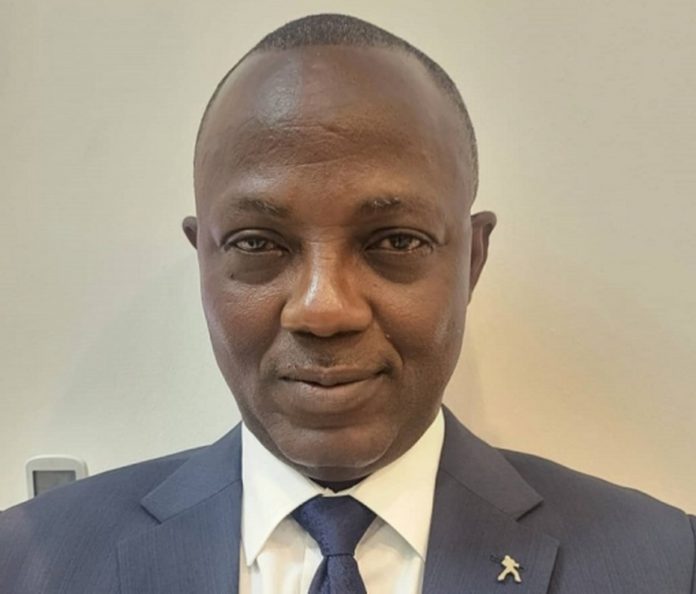 Profile of Bank of Ghana's (BoG) Head of Security, Wing Commander (Retired) Kwame Asare-Boateng (Esq), whom Ningo Prampram Member of Parliament, Sam George described as a "watchman" during #OccupyBoGProtest on Tuesday.
Sam George slammed the Bank of Ghana for sending its Head of Security to meet the leadership of the #OccupyBog protestors.
The MP in an interview criticized the BoG and its Governor for disrespecting the protesters by sending the BoG's Director of Safety and Security, Wing Commander Kwame Asare Boateng to meet the protestors and receive their petition. 
The Minority group, led by Cassiel Ato Forson, chose not to present their petition to BoG's Head of Security, Wing Commander Kwame Asare Boateng, who Mr. George described as a watchman.
Who is Wing Commander (Rtd) Kwame Asare-Boateng (Esq)
Wing Commander Kwame Asare-Boateng Rtd (Esq) joined the Bank of Ghana in 2019 as a Director and in charge of its Security Department.
He has since transformed the Security Department into an effective professional Unit.
Prior to this, he served for 26 years in the Ghana Air Force and rose through the ranks terminating as a Wing Commander and Deputy Director of the Legal Directorate at the Air Force Headquarters.
He served in various capacities while in the military notably as Intelligence Operator, Administrator and Legal Officer.
He has undertaken various operational assignments including serving with United Nations Interim Force in Lebanon (Unifil) as Force Conduct and Discipline Officer and as Force Intelligent Officer as UN Observer in Liberia.
Kwame Asare-Boateng was called to the Ghana Bar in 2007 having successfully completed the professional law programme.
He holds a Master of Arts Degree in International Relations and a Bachelor of Arts Degree both from the University of Ghana.
He is a recipient of several awards and UN Medals in recognition of his professionalism and dedicated service to the nation and the United Nations.
ALSO READ: