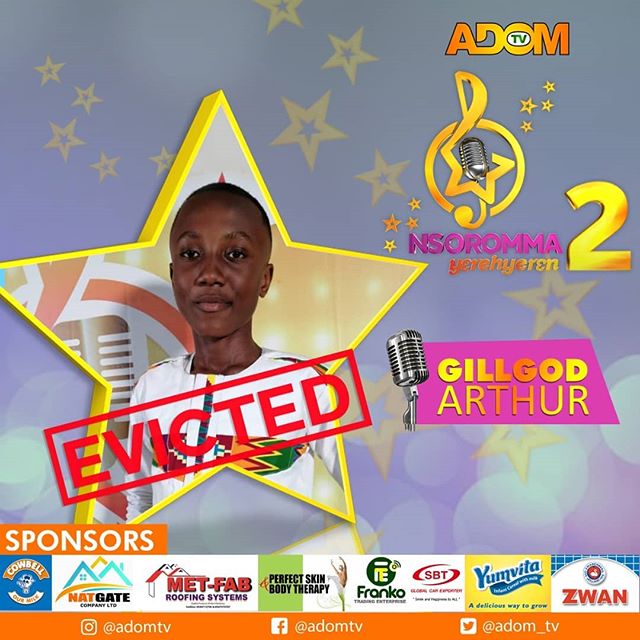 Fans of Nsoromma star Gillgod Arthur looked distressed, in fact, they were sad when host Jerry Justice announced his eviction from the Nsoromma journey last Sunday.
He had been part of the train of young stars blessing fans with soothing live band musical performance ever since the most-talked about music talent show began.
In the past weeks, Millicent Asomaning and Josephine Frimpong were both evicted when they failed to garner enough votes to keep up.
SEE THESE:
As the show inches closer, it is moving away from votes as the judges are also looking out for exceptional qualities and skills to push contestants up the ladder.
Last week, Victor Twum Ampofo opened up the show with an outstanding piece. His black and white suit was a nice one to watch when he performed 'Menya Yesu' by Tagoe Sisters.
Reneil Aboagye followed up and turned the house into a church with 'Defe Defe' by Hallelujah Voices.
Holding her white handkerchief to signify victory, Reneil rocked patrons to the core. She was on top of her game with her higher pitch voice.
Queenmiracle Awinini's costume spoke for itself. She was carrying a Jesus Cross to signify the gospel meaning as she sang 'Stay In My Heart' by Tagoe Sisters.
The catchy hook got patrons singing along well although Judge Akwaboah said her attire didn't match her song of choice.
Prior to his eviction, Gillgod Arthur delivered a spectacular showdown at last Sunday's Nsoromma show.
He nailed it with microphone control and further handled the live band team well. Gillgod was lauded by the judges for performing 'Odomankoma' by gospel musician Nana Yaw Asare.
Almost everyone was upstanding when Aba Afrima Abaka grabbed the mic to perform 'Okamafo' by Amy Newman.
Her presence emitted 'fire' when she mounted the stage to perform the popular gospel song. Aba Afrima was looking fancy and her voice wowed the atmosphere.
Grace Adom Sarkodie's choice of song was good. She performed 'Awanwa Do' by Cindy Thompson.
The popular song got many dancing; Akwaboah commended her for the show though he said she sang in low notes.
With his famous 'Osooko' slogan, Stephen Nyameke arrested the attention in the auditorium when he mounted the podium to perform 'Onyame B3ma Way3 Yie' by gospel act Osuani Afrifa.