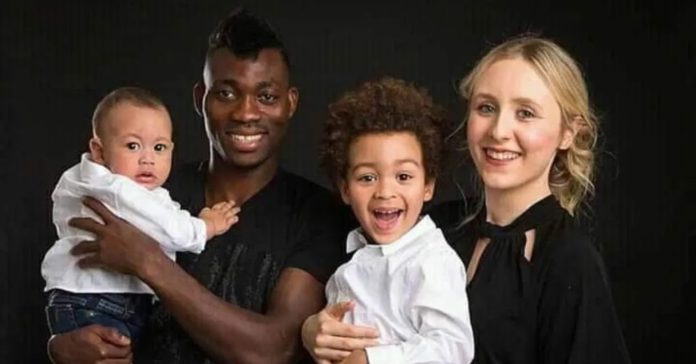 Marie Claire Rupio is the widow of late Christian Atsu, a Ghanaian professional footballer who died in an earthquake that rocked Turkey and the northern parts of Syria.
She is an author from Germany. Her book, Stop Bullying Me, was published in 2021 and is currently stocked in Waterstones.
Her novel is also available to purchase on Amazon, where it receives 5 out of 5 stars and some very positive reviews.
The book is about a young woman called Delilah battling through a lot of darkness in her life, attempting to learn to trust and find happiness again.
Though she isn't very vocal on social media, a Twitter account with her name and picture posted support for Christian back in 2014.
Atsuuuuuuuuu go vitesse #vitesse

— Marie-claire Rupio (@MarieRupio) March 22, 2014
Atsu met his wife Marie Claire Rupio in Portugal nearly a decade ago when he was playing for Porto.
The pair got married in 2012 and welcomed three kids to their lives.
Atsu said to TV3 Sports: "I met my wife in Portugal and you can see we have a beautiful family. We've been together for nine to 10 years and I just love her."
Christian Atsu was a family-oriented young man, as videos and pictures show him spending time with them when he was not on the field scoring goals and making his club proud.
Below is a picture of Christian Atsu carrying his son on his shoulder:
The two were spotted at the beach and looked happy when the memorable moment was captured.
The picture was captured on September 30, 2015, when he was 23.
The pair got married in 2012 and welcomed three kids to their lives. Atsu said to Tv3 Sports: "I met my wife in Portugal and you can see we have a beautiful family. We've been together for nine to ten years and I just love her." Christian Atsu was a family-oriented young man, as videos and pictures show him spending time with them when he was not on the field scoring goals and making his club proud. Below is a picture of Christian Atsu carrying his son on his shoulder. The duo was spotted at the beach as they looked happy when the memorable moment was captured. The picture was captured on September 30, 2015, when he was 23
ALSO READ:
Just In: Christian Atsu found dead – Agent
Social media users react to death of Christian Atsu
Akufo-Addo mourns the death of Ghana midfielder Christian Atsu
Black Stars teammates pay tributes to Christian Atsu