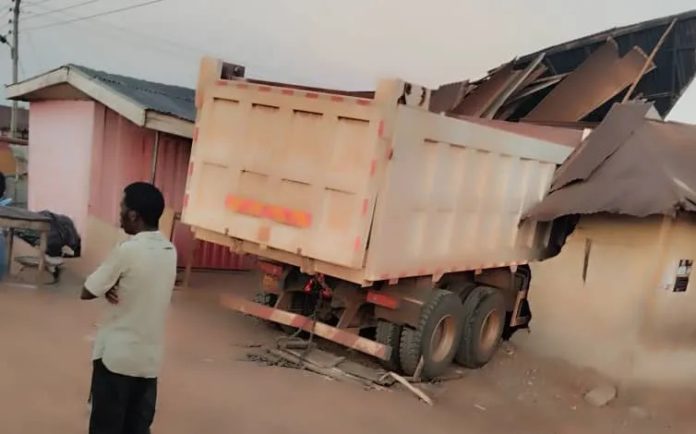 A tipper truck has run into the family house of the Founder and Leader of International God's Way Church, Bishop Daniel Obinim, injuring three people at Heman in the Kwabre East Municipal of the Ashanti Region.
The accident, according to reports, occurred when the tipper truck which was being towed had the chains connecting the two vehicles broken, losing control in the process.
The truck with registration number GR-7137-23, according to the witness, run into the house and destroyed two bedrooms at dawn when the occupants of the room were fast asleep.
Maama Konadu, a member of the affected family, said the sad incident occurred on the dawn of Sunday, May 7, 2023.
Akosua Konadu disclosed that her mother, 63-year-old Ama Konadu, her daughter, Joycelin Mensah, 11 and another young man, Daniel Owusu, 26, were the ones in the two rooms.
She added that Daniel Owusu was trapped under the truck with one of the tires sitting on his leg after the accident.
The two other victims, she noted, sustained severe injuries and have been rushed to Jamasi Hospital for treatment.
"Driver of the tipper truck told us they were travelling from Wa to Kumasi to obviously fix the vehicle because it had broken down for some time.
"On reaching Heman, the truck broke from the towing car, and the driver, in an attempt to save the situation run into our house causing severe injuries to three persons.
"We have officially filed a report to the police in the area and they have since taken over the case," he said.
ALSO READ: