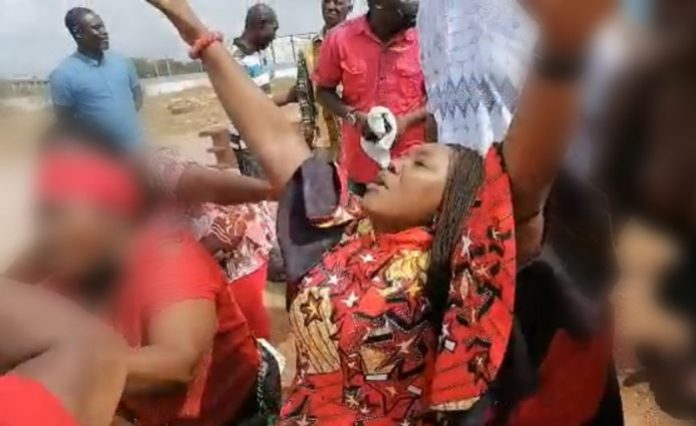 Friday's showdown in Parliament saw legislators battle it out to uphold the positions of their respective sides.
The Majority had argued for President Akufo-Addo's new appointees to be approved while the Minority fought back sighting a bloated government was not favourable for an economy in turmoil.
Though the secret ballot went the way of the Majority, fresh information suggests some NDC Members of Parliament made hard choices just to stack up the numbers in the House.
The House business for the day had coincided with a very important moment on the calendar of La Dadekotopon legislator, Rita Odoley Sowah.
According to NDC member Dzifa Gunu, the MP had lost her father with the final funeral rites slated for this same week.
On Friday, the House had tabled the crucial debate on the nominees as part of its line-up.
However, due to the exigency of the proceedings, Rita "spent less than three hours at the church service".
"Friday, the final day of your late dad's funeral, you spent less than 3 hours at the church service, you couldn't stay to even watch his coffin being carried to the cemetery, you left to Parliament House," Dzifa wrote.
But after hours of disagreements, a brief suspension, and a secret ballot, Parliament finally approved President Akufo-Addo's six ministerial nominees.
This means Rita's sacrifice on the day failed to yield the desired results.
Adansi Asokwa MP, Kobina Tahir Hammond was confirmed to head the Ministry of Trade and Industry, with Dr Stephen Amoah appointed as Deputy. Abetifi MP, Brian Acheampong was approved as Agriculture Minister and Karaga MP, Mohammed Amin Adam, was okayed as Minister of State at the Finance Ministry.
Stephen Asamoah Boateng is the new Minister for Religious and Chieftaincy Affairs, while Osei Bonsu Amoah heads to the Ministry of Local Government and Rural Development as Minister of State.
The outcome of the Parliamentary proceeding has left a sour taste in the mouth of many NDC members.
Read the full statement on Rita Odotey's situation below.