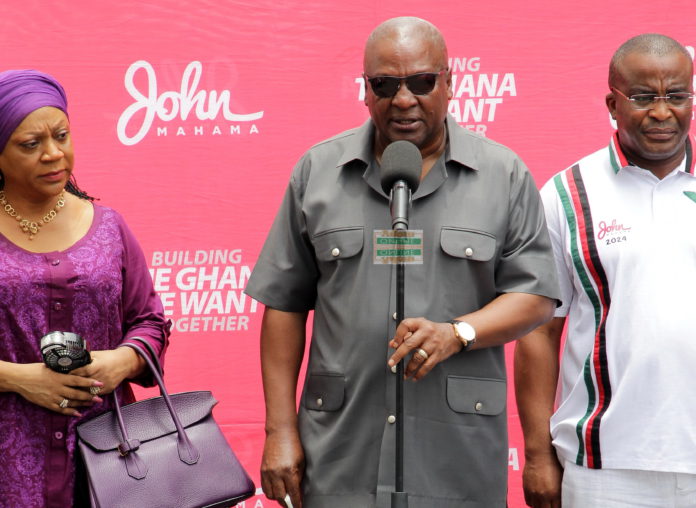 Former President John Dramani Mahama says he will establish a Governance Advisory Council when he is re-elected.
According to him, this will improve political governance, help curb corruption and ensure the respect for human rights in the country.
Addressing National Democratic Congress (NDC) executives and supporters as part of his campaign to lead his party to the 2024 elections, Mr Mahama said membership of the proposed Governance Advisory Council will include representatives of civil society organisations, religious leaders, traditional leaders, and ordinary Ghanaians.
According to Mr Mahama who is promising to wage a sustained war against corruption and poor governance when elected in 2024, the functions of the Council will include the annual release of a State of Governance in Ghana report.
"Every year, the Council will release a report on the state of human rights, corruption, and a report on our governance, which will serve as a guide for government to know whether we are on the right track with regard to issues of governance, corruption, human rights, media, and other freedoms including torture and crime," Mr Mahama said.
The establishment of the Governance Advisory Council as promised by President Mahama will be yet another significant step in his quest to promote better governance and fight corruption.
In his first term as President, Mr Mahama introduced a Code of Ethics for Ministers of State and Government Appointees.
The code of ethics reflected his government's vision to maintain a clean government imbued with systems, clear procedures and guidelines for performance and delivery.
ALSO READ:
Mahama urges political neutrality among security agencies
Mahama mocks Akufo-Addo's 'we have the men' mantra
He reminded Ministers of state that while there are issues that would be accepted in the traditional and cultural context, they are unacceptable under governance ethics and legal conduct.
"One of the strongest ways to prevent unacceptable conduct and abuse of office by public officials is to demarcate the ethical boundaries within which actions and inactions could be deemed to be acceptable or unacceptable", he noted.