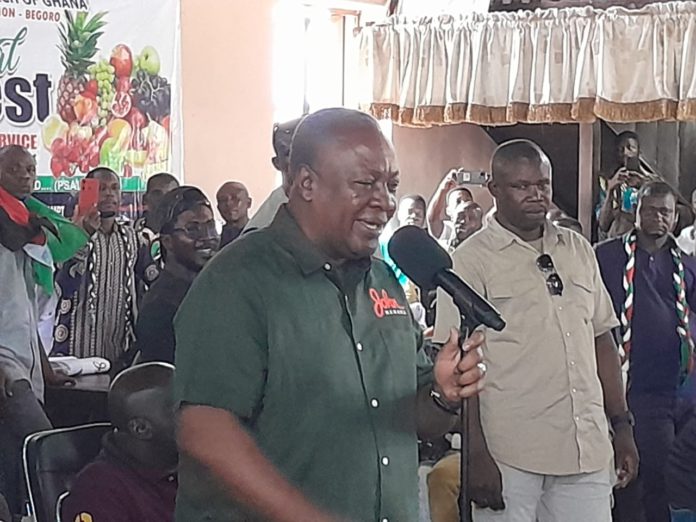 To ensure effective monitoring and collation of results, former President John Mahama has assured agents of the National Democratic Congress (NDC) who will be deployed to the EC's strong room will be given tea and biscuit.
Mr Mahama, who is seeking to be elected as NDC flagbearer and subsequently the President of Ghana, said this as part of his Greater Accra Regional campaign tour.
He was addressing delegates at Ashaley Botwe in the Adentan constituency, noting the NDC is determined to prevent any possible rigging.
Mr Mahama's comment is in connection with the third witness of the 2020 election petition at the Supreme Court, Rojo Mettle-Nunoo's revelation.
Metel-Nunoo told the court in 2021 that when he left the strong room to meet the Electoral Commission (EC) Chair, Mrs Jean Mensa, on December 9, 2020, he was offered tea at her office while waiting for hours.
He made the statement during the cross-examination by Counsel for the EC, Mr Amenuvor, who insisted that Mr Mettle-Nunoo left the strong room on his own volition and waited at the EC Chair's office for over three hours, during which period he was offered tea and biscuits.
But Mr Mettle-Nunoo insisted that he left the strong room after a phone call to the EC Chair, in which the latter invited him to her office, adding that while he was there "I was offered tea – I was not offered biscuits."
However, Mr Mahama has indicated all the agents will be provided with tea and digestive biscuit.
RELATED:
Rojo Mettle-Nunoo's 'tea and biscuit' trend on social media
"We will remain at the collation centres until every ballot has been counted. We'll match them in the EC's Strong Room.
"Those we select to go to the Strong Room, we will give them our own tea and digestive biscuits to take with them," he declared amidst loud cheers from the delegates.