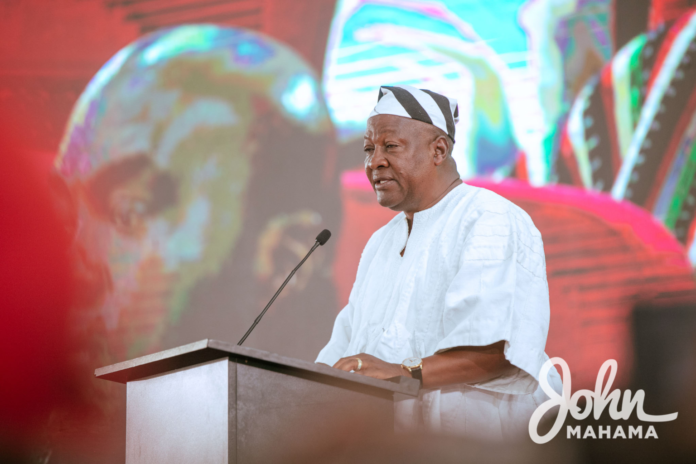 Flagbearer of the National Democratic Congress (NDC) John Mahama has signalled the party's readiness to fight back against electoral malpractices in the 2024 election.
He claims the Electoral Commission (EC) is in a potential tangent to manipulate outcomes of the general election. 
According to the former President, the Commission's new Ghana Card identification directive will deprive some Ghanaians of their right to vote.
Despite opposition from sections of the populace, the Electoral Commission is proceeding with the use of the Ghana Card for the compilation of the new voters' register.
This leaves non-Ghana card-bearing Ghanaian voters incapable to participate in the 2024 general election. 
The flagbearer of the National Democratic Congress describes the new directive as unnecessary.
Mr Mahama said the NPP will fasten on the bendable EC leadership and activities to retain power. 
"The New Patriotic Party led by President Akufo-Addo has shown that they are prepared to resort to electoral manipulation through the pliant and partisan leadership of the Electoral Commission to hang on to power.
"It is our responsibility to give expression and manifestation to the desire of the Ghanaian people for change by remaining eternally vigilant and ensuring that the change is secured through democratic means and that no effort at undermining the change through rigging or other forms of manipulation will succeed.
"It is in this light that we in the NDC wish to make clear that we will resist and prevent any sinister plot by the EC to manipulate the outcome of the 2024 elections, even before the first ballot is cast, through the needless and unacceptable insistence on the Ghana card as the only means of registration.
"The EC remains intransigent and appears determined to make it difficult for sections of our population to have their names on the voters register, by restriction identification for that purpose to only the Ghana card, which as we all know is not available to all Ghanaians," he said.
The former President was speaking at the Alumni Connect of the Tertiary Education Institutions Network of NDC at the Kwame University of Science and Technology (TEIN-KNUST).
The Alumni Connect mobilises leaders of the NDC and mentors the young members of the party for active political engagement.
This year's event was themed "Empowering TEIN: unlocking potentials, building the bridges of Change".
President of the Association, Selma Yoda, admonished the party's youth wing to join in the struggle to wrestle power from the NPP. 
"It's not only just about TEIN but also their use in the country. Even if you are not a polling agent, you can mobilize people from your jurisdiction, wherever you live, wherever you work.
"You can preach the good word of the NDC, and you can preach the name of John Dramani Mahama," she said.
ALSO READ: