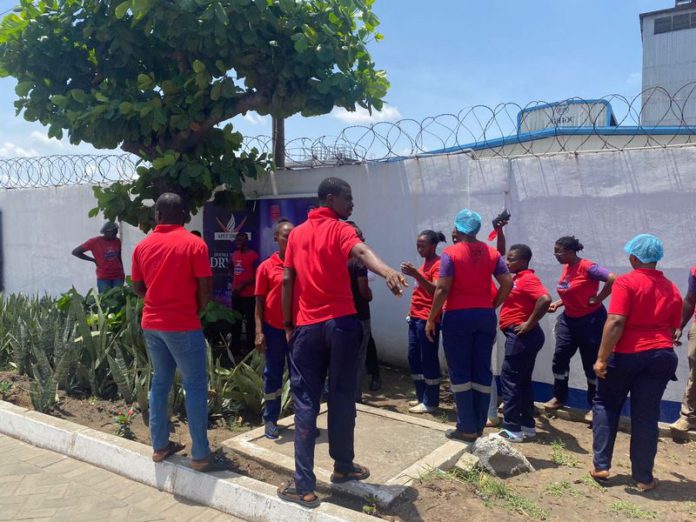 The Sales Manager of GIHOC Distilleries Company Limited has expressed disappointment over the recent protest staged by some employees at the company premises.
The workers were demanding improved conditions of service and the removal of the Managing Director, Maxwell Kofi Jumah.
Nana Kwesi Adubofour described the protest as an unfortunate decision and suggested that certain individuals might be orchestrating it to tarnish the reputation of the Managing Director.
In an interview with Asempa FM's Ekosii Sen on Tuesday, Mr Adubofour defended the Managing Director, stating that he had treated the employees fairly in terms of their salaries and conditions of service.
He wondered why the workers resorted to protesting when there seemed to be no justifiable reason for their actions.
"The reason I am saying this is that most of the people that are agitating were casual workers. The MD made them permanent workers, and some of them received GHS250 and GHS500. This time they are receiving not less than GHS1,500 a month," he explained.
He further pointed out that the Managing Director had even provided employment opportunities for some of the protesting workers during the challenging period of the Covid-19 pandemic.
Nana Kwesi Adubofour emphasized that out of the 565 workers at the company; only a small group of about 20 individuals were participating in the protest, implying that their actions were not representative of the majority.
"The very people doing the agitation are from technical and production staff. The board dissolved the IMC, and the technical manager was part of the IMC. So, what happened three weeks ago that was different from today?" he questioned.
Regarding the employees' claims of delayed salary payments and entitlements, including Social Security and National Insurance Trust contributions and Provident fund, Mr Adubofour suggested the possibility of sabotage, stating,
"If you ask me if there is any element of sabotage I will say yes. Because if indeed their grievances are genuine and they want to do it right, why did they wait till the assumption of the MD? Why did they not stage the demonstration three weeks ago but today? Why did they not stage the demonstration when the IMC was in charge of affairs?"
However, Mr Adubofour maintained his belief that someone might be manipulating the situation to undermine the efforts of the Managing Director.
ALSO READ: