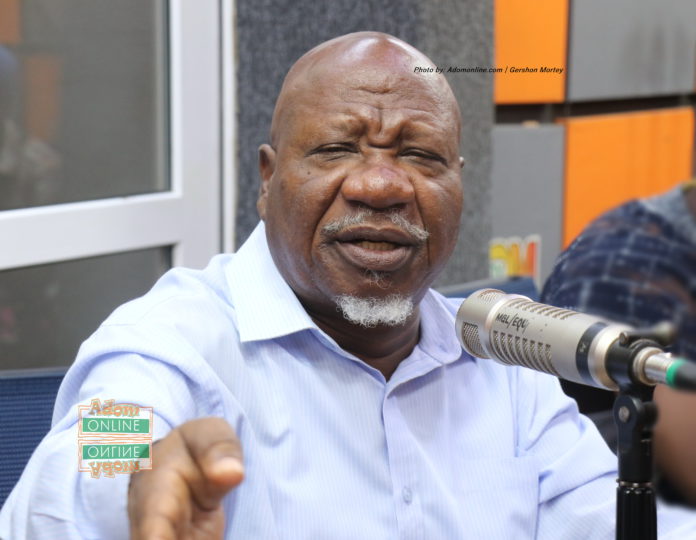 Social commentator, Bernard Allotey Jacobs, has stated former Chief Justice Sophia Akuffo cannot be faulted for her outburst over the Debt Exchange Programme.
According to the former Central Regional Chairman of the National Democratic Congress, Madam Akuffo raised genuine concerns as someone who knows what she is feeling.
Uncle Allotey made these remarks on Adom FM's Dwaso Nsem.
"She spoke her mind. For all you know, she has made her plans and it has been jeopardised. She is not greedy it is just a feeling for her age mates because she knows how she survives as a former Chief Justice because God has given us a survival instinct and so I will not respect anyone who says they are hungry and don't have a job," he said.
Justice Akuffo on Friday, February 10, 2023, joined a group of pensioners to picket the Finance Ministry and hoisted a placard with the inscription "We depend on our bond yields to pay our rent, medical bills, electricity bills and water bills."
The aggrieved pensioners are demanding the exemption of their investments from government's debt exchange programme.
She described the move by the government not to exempt pensioners from the programme as sheer wickedness and outright disrespect to the elderly who have sacrificed their lives for the development of the nation.
Her outburst was however greeted with mixed reactions from a section of political figures.
Reacting to the development on Twitter, a leading member of the New Patriotic Party, Gabby Otchere- Darko, said Madam Akuffo may mean well but she erred big time in her basic appreciation of the issues.
Mr Otchere-Darko's tweet has however garnered massive backlash coupled with a call by former Tema East MP, Titus- Glover for him to delete it.
RELATED:
Debt Exchange: Gabby vs Sophia Akuffo is a 'family affair' but we'll get involved…
Debt Exchange: Delete Twitter post about Sophia Akuffo – Titus-Glover tells Otchere-Darko
In response, Madam Akuffo said Mr Otchere-Darko was a disturbance and not important to her.
But to Allotey Jacobs, Gabby will always say his mind and as to whether he is a disturbance or not, he will speak freely.
He indicated a lot of people are gradually accepting the programme which has resulted in a reduction in the number of protesters at the Finance Ministry each passing day.
"But this should be a lesson for Ofori-Atta because from afar, I feel he doesn't engage stakeholders," he urged.
Play audio above: