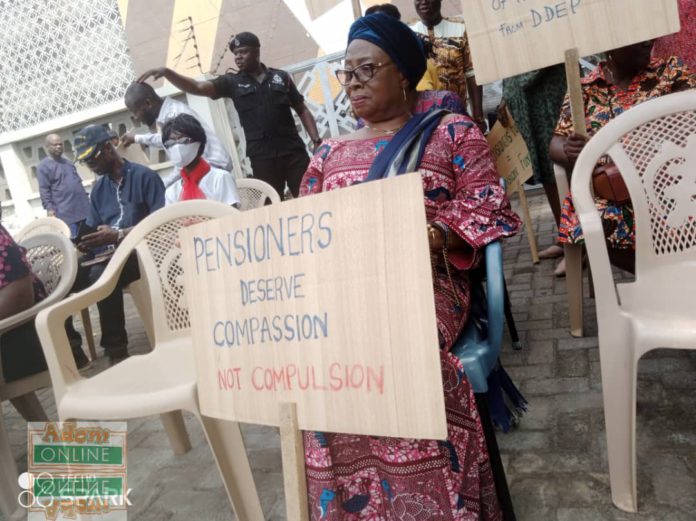 Former Chief Justice, Sophia Akuffo, has replied Gabby Otchere-Darko for criticising her for joining her colleague pensioners to picket the Finance Ministry.
Madam Akuffo says Mr Otchere-Darko cannot decide for her what to do and what not to do.
She returned to the premises of the Ministry on Tuesday after her appearance on Friday triggered an uproar.
Speaking in an interview, she stated the President's cousin [Gabby Asare Otchere Darko] can call her paranoid over her position on the Domestic Debt Exchange Programme (DDEP) but she cares less.
The leading member of the New Patriotic Party (NPP) in series of tweets on Sunday, said the former Chief Justice should have taken the time to understand issues pertaining to the ongoing programme before choosing the side of the pensioners.
Mr Otchere-Darko was of the view that Madam Akuffo erred "big time in her basic appreciation of the issues"
But to her, Mr Otchere-Darko is a disturbance and she does not have time for such things or people.
"Is he a member of the government? He doesn't decide for me what I need to do or not. I don't have time for things like that. People like that are not important to me or my life. He is a disturbance; that's all I have got to say about that," she said.
The stateswoman when she appeared on Friday described the programme as wicked, unlawful and disrespectful.
RELATED:
Sophia Akuffo, you're better than this – Gabby Otchere-Darko fires former CJ
Debt Exchange: Gabby vs Sophia Akuffo is a 'family affair' but we'll get involved…
Debt Exchange: Delete Twitter post about Sophia Akuffo – Titus-Glover tells Otchere-Darko
She has threatened to sue government if the calls for pensioners to be exempted are not heeded to.
Play the audio above: