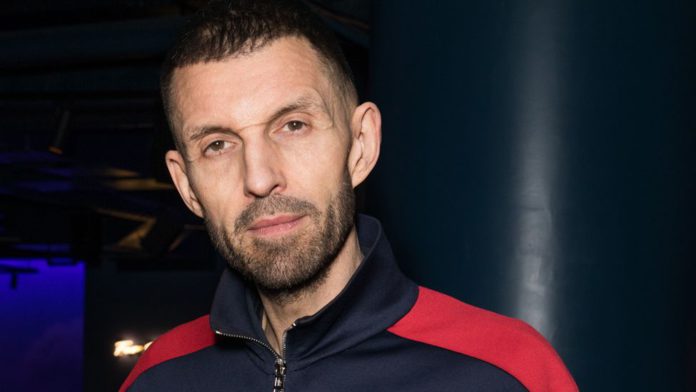 DJ Tim Westwood is facing allegations from a woman who says they had sex several times starting when she was 14.
She says Mr Westwood was in his 30s at the time and describes him as a "predator".
The woman is one of several to come forward after an investigation by BBC News and the Guardian, with claims of misconduct and abuse dating from 1990 to 2020.
Mr Westwood did not respond to a request for comment.
It is illegal in the UK to have sex with a 14-year-old.
In April, a number of women accused the former Radio 1 DJ of predatory and unwanted sexual behaviour and touching, in incidents between 1992 and 2017. They also accused him of abusing his position in the music industry.
BBC News and the Guardian have investigated the stories of 10 women who came forward after the initial revelations. Some of the women told us they encountered Mr Westwood when they were under 18.
READ ALSO:
One says that she was only 14 when she first had sex with Mr Westwood. Another says she was 16 when the DJ, who was in his 40s at the time, began what she says was a "controlling" relationship with her. Both women say their relationships affected their mental health.
Two other women say they were in their mid-teens when they were sexually assaulted by Mr Westwood.
The testimonies of these and other women feature in a new BBC News documentary, Hip Hop's Open Secret: Tim Westwood, which is available on the BBC iPlayer now and airs on BBC Three at 22:00, and raises new concerns about the 64-year-old's behaviour over three decades.
One woman, who was 20 when she met the DJ at a student club night, says he sexually assaulted her in his hotel room by pushing his penis into her mouth while she was resisting.
He previously strenuously denied the allegations of seven women who featured in the original investigation by BBC News and the Guardian.
In a response at the time to that BBC documentary, a spokesperson for the DJ said he denied the allegations in their entirety. They said: "Our client confirms that there has never been any complaint made against him, whether officially or unofficially, relating to claims of inappropriate behaviour of the nature described."
After those revelations, the British hip-hop DJ stepped down from his weekly Saturday night radio show on Capital Xtra "until further notice", according to a statement from parent company Global at the time.
Other than two who are friends, none of the women we spoke to know each other or have met. All are black.
Of all those who have spoken to the BBC and the Guardian, Esther was the youngest at the time that she says the DJ had sex with her. She says she was 14 and the experience later led to her attempting to take her own life.
She first met him at his club nights at the Arch in Vauxhall in 1990. She and her friends were big fans of the DJ's hip-hop show on Capital radio, and they would often call the programme for a shout-out.
They became regulars at his club night. "[Tim Westwood] would always see us. He'd let us in for free," says Esther. "Sometimes he'd come and check on us: 'Ah are you guys enjoying yourselves?' And that's how it started."
She says the DJ knew how young she was because he had asked her her age.
"He didn't look shocked or anything," she says. When she asked him if she could continue coming, he said, "Sure you can."
"I think we exchanged numbers and he just started, 'Oh are you coming tonight, you know, so I can leave your name at the door.' And then I'd say it was a couple of months after that he asked to meet up with me at Hammersmith Station."
She says the DJ met her in west London and drove her to a flat. He offered her a drink but she said she just wanted a juice. They sat and talked – and then he kissed her.
"I was like, OK, I don't have a problem with that. And then, it progressed from there. We had sex."
This would not be the only time. The DJ, she says, would call her at home – after 18:00 because he knew her mum worked nights – and they would arrange to meet.
"I never gave consent [to sex], but I never said no either so, I just went along with it," she says.
Esther, who described herself as a "bit of a troubled teen", says she broke off contact with the DJ when she was 16, and realised it didn't feel right.
She says it felt like a "dirty little secret".
"I kind of thought it was normal but that's because I didn't understand the gravity of the situation. It wasn't a relationship and it wasn't about love, it was just a thing, and a thing you couldn't discuss with anybody."
She says it feels like the DJ had groomed her, and describes Mr Westwood as a "predator", and herself as "prey".
She didn't tell anyone, she says, because she felt she would "get the blame, not him… because I'm no-one".
Esther started a new relationship not long afterwards and her then partner told the BBC he had been "repulsed" to learn that the older DJ had had sexual encounters with the teenager.
Lydia, another woman to come forward, was at college doing her A-levels when she started going to Mr Westwood's night at Caesars club in Streatham, south London.
She says the DJ saw her one night and asked her for her number. They started a relationship. Lydia says Mr Westwood knew she was only 16. At the time he told her he was 27, though she later discovered he was in his 40s. She lived on her own and describes herself at that time as a "vulnerable young girl".
Sex was consensual, "but it didn't feel like a healthy sexual relationship because he was a grown man and I was a teenager", she says.
During the 18 months it lasted, he isolated her from friends and family. She says she became depressed and tried to end her own life.
A friend of Lydia's from the time remembers the impact on Lydia's mental health. Her brother also told us he recalls confronting Mr Westwood about the situation.
"It was quite controlling in lots of ways," says Lydia. "I had a home phone, and he demanded to have the password to it so he would often listen to my messages."
If he was travelling he would insist that she came with him, she says, because he didn't trust her to be on her own.
Lydia said she would sometimes go with Mr Westwood to the BBC, when he "went to pick something up".