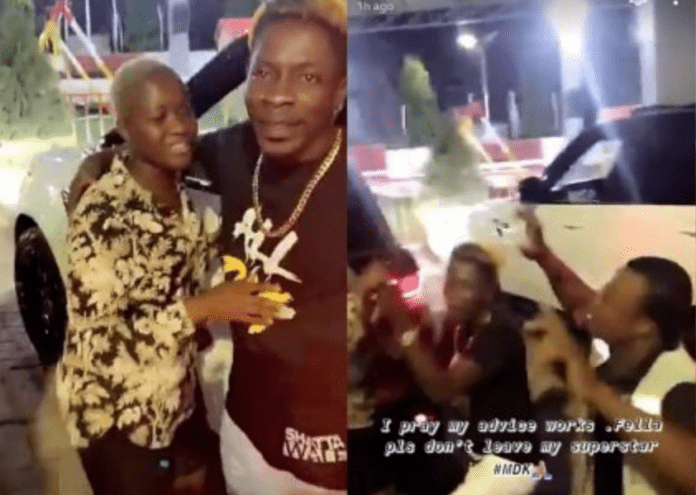 Dancehall musician, Shatta Wale, is clearly not happy about the 'temporal' split-up between rapper Medikal and his girlfriend actress Fella Makafui.
The Shatta Movement (SM) boss proved his concern by kneeling in public to beg Fella Makafui to forgive Medikal for wronging her.
A supposed loyal SM fan, present at the scene, was rewarded $100 when he also knelt in support of Shatta Wale.
Medikal has been begging Fella Makafui for some days now for reasons best known to them.
SEE THESE:
According to Medikal, who has fallen short to disclose why Fella Makafui has blocked him from reaching her through many mediums, Fella Makafui is the love of his life and would do anything to be with her.
Fella sacked Medikal when he visited his wine and liquor shop with some friends to reconcile with her.
It was in the light of this that Shatta Wale decided to step in to mediate in the matter.
In the video, Shatta Wale was heard saying "I will resolve everything and make sure they come back together," as he hugged Fella Makafui.
Subsequently, Shatta Wale also visited Medikal in his abode to finalise talks with him.
Meanwhile, reactions of social media could tell fans of the couple have their fingers crossed hoping that Shatta Wale would save the dying relationship.
Watch the video below:
#Shattawale bends the knee to reunite #Medikal and #fellamakafui

He later visits #medikal at his home to solve issues pic.twitter.com/HcqPdQNBOG

— Ghana Bwoy 🇬🇭 (@ghana_high) January 15, 2020