Highlife singer, Ofori Amponsah, also referred to as 'Mr All 4real', has taken to social media to register his tribute to fallen colleague singer, Kofi B.
The 'Otoolege' hitmaker, pouring his heart out, said, "how I wish we could turn back the hands of time," to depict how sad he was after Kofi B's demise.
The two have been good friends in the entertainment sphere for more than a decade, where they featured each other on songs that became hits in the country.
Although a newcomer with a lot of promise, it was Kofi B's recordings with Ofori Amponsah, who was already a household name, which helped him shoot through the roof.
Kofi B and 'Mr All 4Real' released an album together and the latter also helped produce other tracks for Kofi B.
Taking to his Facebook page, Mr Amponsah recalled beautiful and struggling moments with his beloved friend, Kofi B.
MORE STORIES:
Read his tribute below:
"The times we had the good the ugly is part of life, how i wish we could turn the hands of time. The creative parts is what i remember, our struggles to survive, the harsh reality of life in the showbiz.
"Its almost two months we met did not know would be the last. May your soul rest in peace till we meet again," he said.
Find the post below: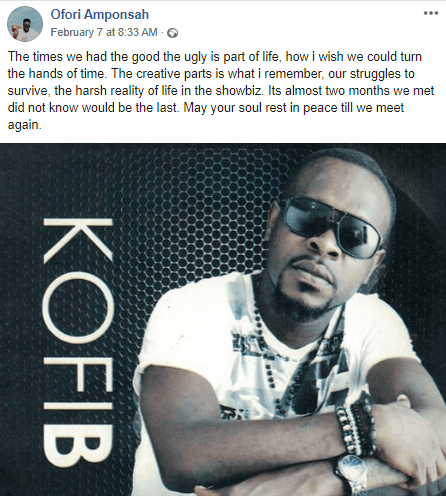 Kofi Boakye Yiadom, known in showbiz circles as Kofi B, died Sunday, prior to his performance at a concert in Cape Coast in the Central region.
The 'Mmobrowa' singer, according to colleague musician Kofi Nti, started complaining of chest pains and unusual heartbeat.
A doctor at the hospital said Kofi B was sweating and vomiting when he was admitted.
The 'Bantama Kofi Boakye' hitmaker was restless with very high body temperature and an unusual blood pressure, the doctor said after his death.