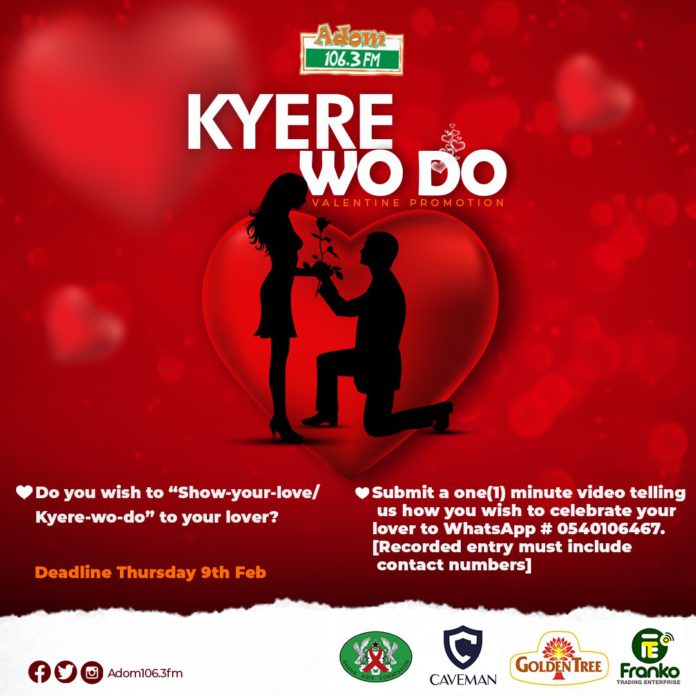 Valentine just got better with Adom 106.3 FM!
With exactly a week left to commemorate the special, love-filled day, Adom FM has rolled out a special valentine's day promotion dubbed Kyerɛ wo dɔ.
As the name suggests, the opportunity is here for all and sundry to honour their loved ones in a short video for Ghana's number-one radio channel, Adom 106.3 and win big on the day.
The rules are simple; send a one-minute video to the WhatsApp number 054 010 6467, detailing how you wish to show love to your special person.
Remember to include your contact details and stand the chance of winning amazing prizes for yourself and your partner to celebrate this Valentine's Day.
Will you express your love by presenting flowers, offering confectionery and sending greetings cards of 'kiss before you read' self-written letters?
Or better still, will you organise a romantic setup for two, an outdoor movie date under the moon or any exquisite celebration?
Feel free to share your plans in a one-minute video with Adom FM and you might be the lucky winner.
Remember, the deadline for sending entries is Thursday, 9th February 2023.
Adom FM's Kyerɛ wo dɔ Valentine promotion is brought to you by Adom 106.FM and sponsored by Ghana Aids Commission…Condomless sex is risky, if it's not on, then it's definitely not in.