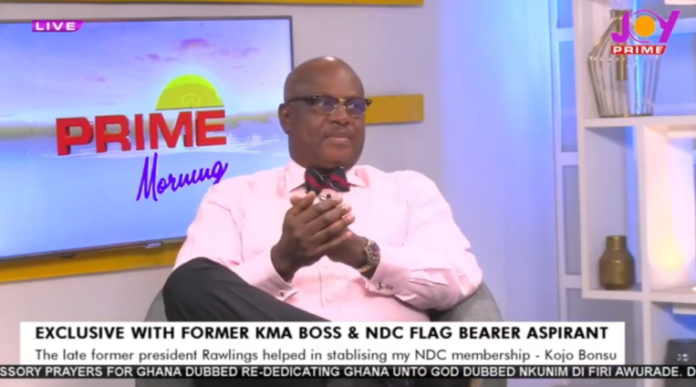 The former Kumasi Metropolitan Assembly (KMA) boss, Kojo Bonsu, has responded to allegations that he referred to former president John Dramani Mahama as corrupt.
In 2022, there were publications by some news portals claiming that Mr Bonsu had called Mr Mahama a corrupt president.
In the publications, it was alleged that "former President John Mahama does not stand a chance as far as winning the 2024 general election is concerned because his opponents in the governing New Patriotic Party (NPP) have sullied his name with corruption and women's affairs to the extent that he has become unattractive to the floating voter."
This, according to the news sources, was said by the former KMA boss, who aspires to be the flagbearer of the NDC.
But Mr Bonsu has denied saying that about Mr Mahama.
On Prime Morning on Wednesday, he told Roselyn Felli that the publication was a plot to destroy his relationship with the former President.
According to him, "I wasn't misquoted. I think some people put it on. I checked; it was a Peace FM portal that brought that, and it was fake news. It just wanted to create some kind of confusion between me and the former President, but they cannot achieve it."
Meanwhile, he believes Mr Mahama is hardworking and commended him for the work he did during his regime. He applauded the ex-President for achieving the majority of the party's aims during his tenure in office.
"He is one of the best that Ghana has ever had," he said.
But as to why he is contesting for the position despite mentioning Mr Mahama's capabilities, Mr Bonsu indicated that Mr Mahama only had four years to run as president, which he thinks would not be sufficient for the NDC to achieve their development goals.
He explained further that "it is democracy that has allowed that."
ALSO READ:
Kojo Bonsu sends strong message over NDC electoral violence
Why I am challenging Mahama for NDC flagbearership – Kojo Bonsu
NDC Greater Accra Chairman endorse Mahama, promises to pay ¢500k filing fee
However, as a flagbearer aspirant for the NDC, Mr Bonsu is confident in his ability to do better for the country if elected president.
Having said that, he is positive about winning the NDC primaries and becoming the flagbearer in 2024.
He has, however, stated his willingness to assist the party in winning the election even if he loses the primaries.