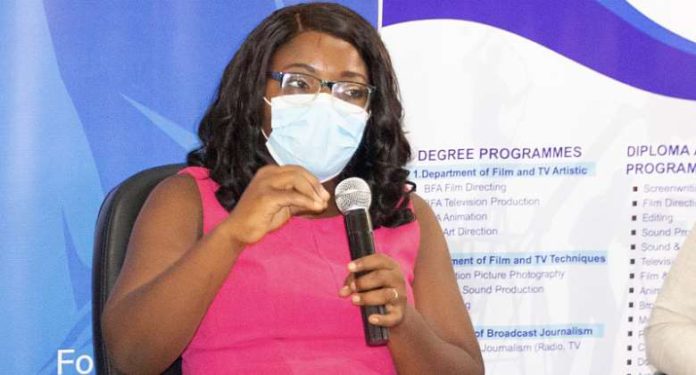 Multiple award-winning Ghanaian investigative journalist with Corruption Watch, Francisca Enchill, has shared her candid view about entrapment.
The reigning GJA best investigative and female journalist of the year averred that trapping people with money in an attempt to expose an officer of corruption is totally wrong.
In an interaction with some student journalists at the Ringway campus of the Ghana Institute of Journalism (GIJ) in Accra on Tuesday, Mrs Enchill said the best way to embark on an investigative report is by natural participation.
"Professionally, investigative journalists are not supposed to use the entrapment method. Ideally, you need to use the natural participation method," she noted.
The author of the 'Pay or Die' investigative report explained that corrupt individuals will surely show their true colours even when they are not trapped.
She stressed that the target may be facing some challenges at home, including an urgent situation for money which may compel the person to accept the bribe.
"If I'm supposed to investigate an individual or an organisation, I don't have to trap you with money; I need to let you show it willingly if indeed you are corrupt.
"If you identify any person or an organisation which you want to investigate, you need to move to them in a natural way by participating, and if they are corrupt as you detected, they will show it to you, but it is totally wrong to trap them because they may be going through certain challenges at that time, including an urgent need for money, which they cannot reject at that time," she explained.
READ ALSO:
Corruption Watch's Francisca Enchill is first female to be adjudged GJA Investigative Journalist of…
Corruption Watch's Francisca Enchill shortlisted for BBC Komla Dumor Award
In response to another question on whether undercover journalists are free to break certain ethics in their line of work, Mrs Enchill responded affirmatively indicating that it's for the benefit of the general public.
"Investigative journalists are legally allowed to break certain rules because it is illegal to secretly videotape someone and publish or to invade their privacy, but our line of work permits us," she asserted.