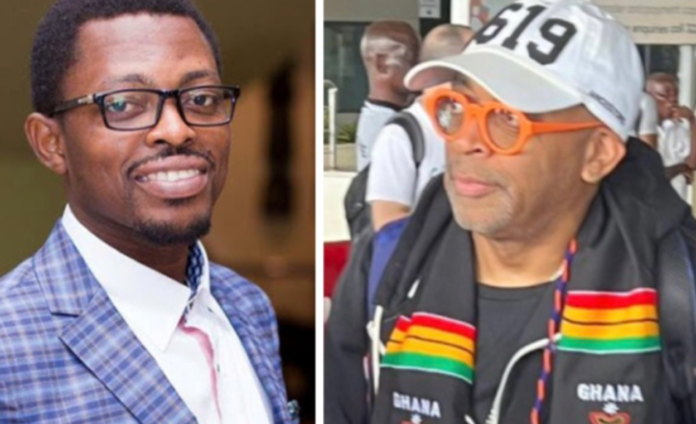 Ghanaian filmmaker Peter Sedufia has waded in the controversy surrounding American actor Spike Lee's visit to Ghana.
The American film maker said in an interview with Accra-based Asaase Radio that when he visited Ghana nobody from the film industry approached him for a meeting.
He even said he didn't know Ghana had a thriving film industry.
"I know about Nigeria, and no one has approached me from the film industry in Ghana. I would love to meet people in the film industry but no one has approached me," he said.
In the wake of this, there has been backlash against the powers that be for not initiating an engagement with the actor.
That notwithstanding, Peter Sedufia, the producer of movies such as 'Aloe Vera' and 'Keteke' has described the brouhaha about Spike Lee's statement as "knee-jerk reactionary behaviours."
According to him, if the film industry in Ghana wants to have an engagement with any international figure, they need to make an effort to book an appointment with them, instead of waiting to take advantage people's visits to Ghana.
Read his full post on Facebook, below:
"These knee-jerk reactionary behaviours are part of the reason we're stuck as an industry…
1. Do we know why Spike Lee was in Ghana?
2. Do we know his itinerary before wishing to have bombarded him with our unplanned/unsolicited film industry appointments?
3. Do we know who even invited him and on whose ticket he was here, and whether that person was opened to other people tapping into their investment?
Eg. I invite James Cameron to Ghana, pay his travel expenses and accommodation for my personal purpose, only for random people to come and bombard him with unplanned and unintended appointments. Does this make sense to any right thinking person?
If Spike Lee wanted to meet Ghanaian filmmaking Community, he would have mentioned it before coming, then we'd be aware of the invitation to treat. Or, whoever was inviting him would have made that known. He can't pretend not to know people make films in Ghana.
If he was invited on the ticket of the government, then there's a communication failure somewhere. I cannot single-handedly make my way to Spike Lee to make an appointment to have an entire film industry conversation with him. Where's my access point?
People should just chill about these [sic] whole brouhaha.
We don't create our own opportunities, but we always want to jump and grap other people's creations. If you need Spike Lee, James Cameron, etc, for a film industry conversation, make a conscious effort to invite them, and they'll decide how to treat your invitation.
Don't wait to parasite on someone else's investment. Give us a break!"
In the meantime, the National Film Authority has explained that attempts to have a meeting with Spike Lee proved futile.
Asked who they contacted for the meeting, the Executive Secretary of the National Film Authority, Juliet Yaa Asantewaa Asante told myjoyonline.com it was somebody that was introduced to them as Spike Lee's personal assistant.
"His PA was who was introduced to us," she noted.
In all this, some have questioned the role of the Beyond the Return Secretariat in situations like this.
MORE: