Ghanaian musician Fameye says he wouldn't sign with any music record label that uses eggs and schnapps to sign its artistes.
He made this assertion in an interview on Adom FM's Work and Happiness show on Tuesday, January 14.
According to the 'Mati' hitmaker, he would only deal with a label that would ink deals with the Bible.
SEE THESE:
He explained that, he grew up as a Catholic, hence it would be difficult for him to accept such deals even if he is desperate.
When the question was posed to him on the mid-morning show, he quickly said, "over my dead body. I would only sign if it involves the Bible."
The musician says his faith remains steadfast in the Lord, hence it would be difficult to sign such a contract.
Meanwhile, former manager of singer Fameye, Ogidi Brown, is currently trending on social media after he was spotted signing his latest artiste while schnapps and eggs lay beside the record label contract.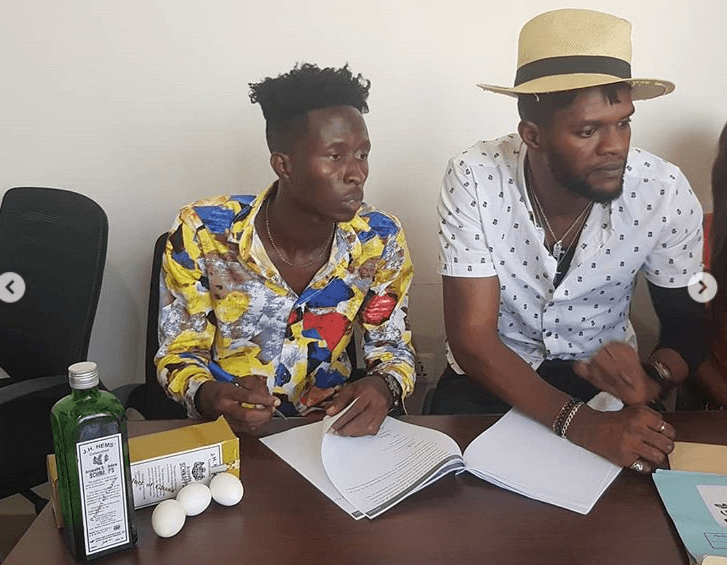 The Chief Executive Officer of OGB music was full of happiness announcing to his fans his newest member, Cryme Officer, in series of photos on Instagram.
What arrested the attention of many were the schnapps and eggs which looked like a pre-requisite for the music deal to be inked.
Rumours suggest Ogidi Brown has developed trust issues with emerging acts because his former act, Fameye, allegedly broke his heart when he left his label after his 'Nothing I Get' song became a hit.