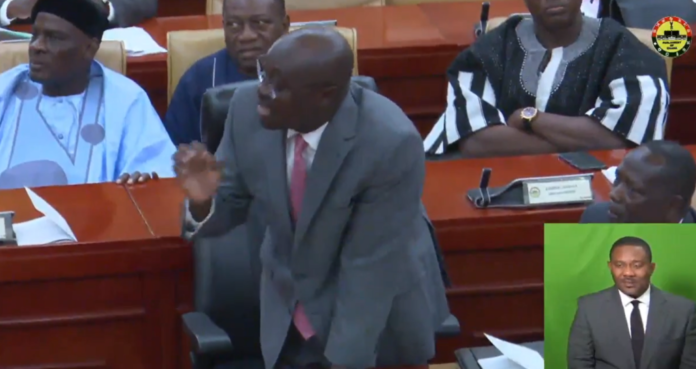 The Minority Leader has expressed his disappointment with the turn of events following the approval of all six NPP ministers when the party has agreed to do otherwise.
Dr Cassiel Ato Forson says he is downhearted that his Caucus could not vote against the nominees to compel President Nana Akufo-Addo to reduce the size of his government. 
However, the Ajumako Enyam Essiam lawmaker has expressed his utmost gratitude to the over 100 NDC MPs who voted against the nominees.
According to him, these MPs demonstrated their unwavering commitment to the collective good of the Ghanaians people.
"To say I am profoundly disappointed with the outcome of yesterday's proceedings is an understatement.
"While it is true that we did not achieve the desired reduction in the number of ministers under this government, I want to take this opportunity to acknowledge and thank the over 100 NDC MPs who worked tirelessly to represent the will of the majority of the Ghanaian people.
"These MPs have demonstrated their unwavering commitment to the betterment of our society.
"Their tireless efforts to push for a reduction in the number of ministers are a testament to their dedication to our shared cause," he said in a Facebook post on Saturday, March 25.
Meanwhile, Dr Forson has expressed his optimism the Caucus achieves greater good for the NDC and Ghana as a whole. 
"While the outcome may not have been what we had hoped for, I believe we can still work together to achieve our goals.
"I remain hopeful that by continuing to engage in constructive dialogue and collaboration, we can find a way forward that benefits all Ghanaians.
"Once again, I want to express my disappointment, but I am also grateful for the efforts of those who worked to represent our collective vision for a better Ghana. Let us continue to strive towards a brighter future."
After hours of disagreements and a brief suspension, Parliament has finally approved President Akufo-Addo's six ministerial nominees.
Adansi Asokwa MP, Kobina Tahir Hammond has been confirmed to head the Ministry of Trade and Industry, with Dr Stephen Amoah appointed as Deputy Minister for Trade and Industry.
Abetifi MP, Brian Acheampong has been approved as the Food and Agriculture Minister and the Karaga MP, Mohammed Amin Adam, has been approved as Minister of State at the Finance Ministry.
Stephen Asamoah Boateng was confirmed as the new Religious and Chieftaincy Affairs Minister, while Osei Bonsu Amoah heads the Local Government and Rural Development as Minister of State.