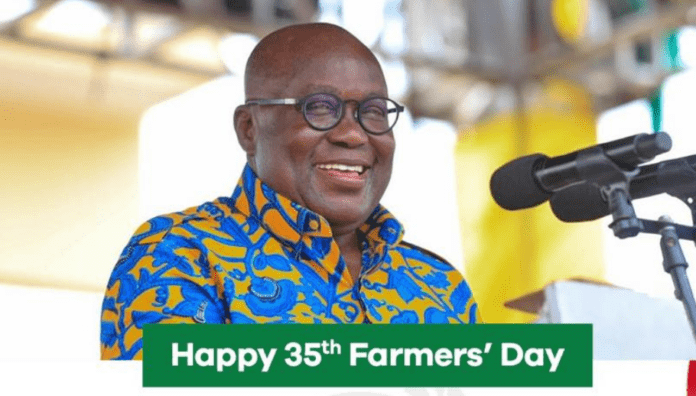 President Nana Addo Dankwa Akufo-Addo has taken to his social media pages to thank Ghanaians, especially farmers for their contribution towards agricultural development in the country.
President Akufo-Addo described the day as "one of the most important holidays on the national calendar."
The 35th edition of the National Farmers' Day is being held today December 6, 2019 in the Volta Regional capital, Ho, under the theme: 'Enhancing Small-Scale Agriculture Towards Agribusiness Development.'
About 150 best farmers and fishermen across the country will be honoured for their undying input.
President Akufo-Addo, members of the diplomatic corps and some development partners are expected to grace the event.
SEE THIS:
Read his full statement below:
Today is one of the most important holidays on the national calendar – Farmers' Day, currently in its 35th year celebration. Farmers and fisherfolk in Ghana are the focus today of national attention, because we all agree that it is worth honouring them each year for their great dedication to the well-being of our nation.
I salute all farmers and fisherfolk and award winners across the country for their hard work, perseverance and co-operation with government agencies during the course of the year. I urge them to build on their successes, and move on to even greater heights in the years ahead.
Agriculture will always be a pivotal and central to Ghana's development efforts, and my Government will continue to prioritise and support agriculture to make the sector one of the most viable and major driving forces of Ghana's economic development.
May God bless our homeland Ghana, and make her great and strong.