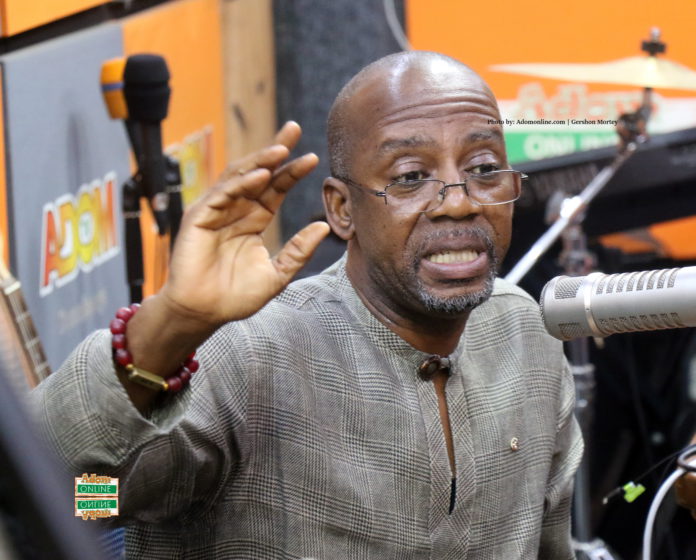 Ghanaian highlife musician, Rex Omar, says the Bank of Ghana (BoG) should've taken into consideration the consent and education of Ghanaians before introducing the new GH₵ 2 coin, 100, 200 Cedi notes.
According to him, it has been forced down the throat of Ghanaians unlike the previous GH¢50.00 and  GH¢20.00 denominations that took months of education before circulation.
Speaking on Daybreak Hitz on Hitz FM, he said, "this time is like we are raped. If you are having sex with a virgin, your approach must be different. That's why BoG had to take us through to be more informed but they didn't," he told Andy Dosty.
SEE THIS:
Mr Omar said: "If you can walk around with about 20,000 Cedis in your pocket, you're psychologically lowering the currency. Ghanaians would lose the value we put on our money. How do you print this note and say you're creating a cashless society?" he concluded.
Meanwhile, the BoG says it is not shifting away from pursuing a cashless society policy with the introduction of the new banknotes.
READ THIS: Official: Why we have introduced new banknotes, coin – BoG
Speaking to the media during the launch, the Governor of the Bank of Ghana, Dr Ernest Addison said the introduction of these high-value notes was not a shift from the Central Bank's policy of pursuing a cashless society and promoting the use of electronic modes of payments.
SEE THIS: How Ghanaians are reacting to BoG's new GH₵ 2 coin, 100, 200 Cedi notes
"While vigorously pursuing financial inclusion by accelerating the migration to e-payment platforms, we are also mindful of the relevance of cash in our day-to-day dealings. Undeniably, cash still remains the preferred medium of payment by the large informal sector in the country. This is why we continue to pay attention to enhancements in the structure, security features and management of cash within the economy. This will stay with us for some time," he added.
The Bank of Ghana on Friday introduced the GH¢2 coin, GH¢100 and GH¢200 notes as part of Ghana's currency denomination.