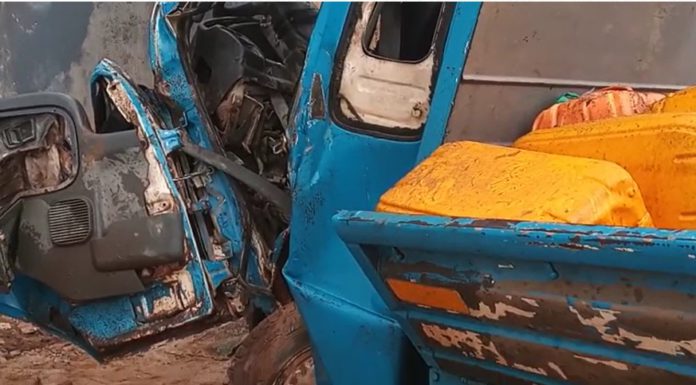 A yet-to-be-identified Kia truck driver is in critical condition after he crashed into a gas station at Konongo on the Accra-Kumasi highway.
Per eyewitnesses' narration, the incident happened around 10:00 am on Wednesday morning.
The driver of the car with registration number GW 7258-17 was on top speed and he is suspected to have failed break, hence veered off the road.
An eyewitness, Joseph Lanbon, who spoke to Adom News, said the car carrying gallons nearly crashed a trader situated by the roadside before veering into the gas station.
The speeding car rammed into a pole and subsequently into a building inside the gas station.
Due to the impact, the doors locked, trapping the injured driver for a period.
After efforts to save him proved futile, eyewitnesses alerted the Konongo police whose timely intervention saved the day.
The unconscious driver, who had injuries to his head, has been rushed to the district hospital.
ALSO SEE
Driver in critical condition after accident involving fuel tanker
Woman narrates how lover doused her with acid for refusing blood…
One dead, 3 injured after gunshots at funeral