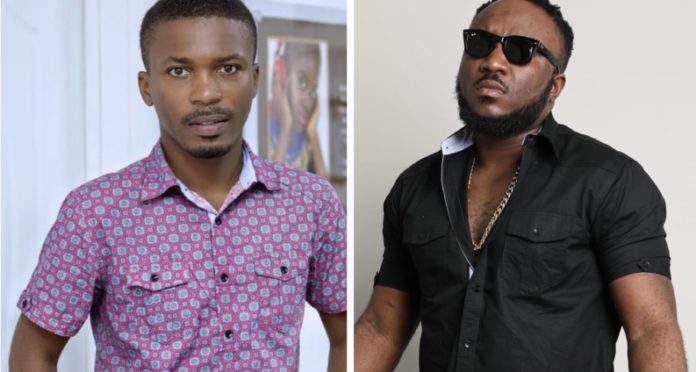 It was a heated banter on Joy FM's entertainment Twitter Spaces conversation when comedians Clemento Suarez and DKB were locked in a duel.
The two, while talking about the challenges of the comedy industry, argued about the role Charterhouse had played in the comedy industry in Ghana.
While DKB said Charterhouse killed Ghanaian comedy by creating the impression that Ghanaian comedians were subpar, Clemento said it was the company's decision to put Ghanaian comedians on their platforms that rather spawned the recent vibrant comedy movement in the country.
While at it, DKB suggested Clemento Suarez, who is a comic actor had no right to speak on issues concerning stand-up comedians.
"Clemento Suarez, you are a comic actor, you don't speak for stand-up comedians. But it's amazing how you Kwame Dadzie gave him the room to speak for us," he said.
While giving a chronology of events to support his claim, DKB said "from 2008/2009 that the fight against Charterhouse started, it was David Oscar's fight and then it culminated into our fight. It was 2008/2009 to 2014.
"Where was Clemento Suarez when we did a show in Cape Coast, and we finished we slept on student desks because literally, only two people bought the ticket because they said we were not funny? It had spread across the media, everywhere. Where was Clemento Suarez? Where was Clemento Suarez when we did a show at the drama studio and about just 12 or 15 people came, and they sat through the rain for us to perform? Where was he? He was doing comic acting," he noted.
According to DKB, Suarez was nowhere near the stand-up comedy space when they were fighting for comedy in the past.
Enraged by the statement, the comic actor hit back at DKB, reminding him of when he started his comedy career, adding that when the new wave of Ghanaian comedy started DKB had not started comedy.
"I never said that DKB Charterhouse didn't victimise you. You can say that. What I am saying is, don't include all these people that you are saying have kept quiet, for somebody in a different field to come and demonise you," Clemento intimated.
ALSO READ:
Mr President where are the theatres? – Clemento Suarez asks
Comedians were forgotten during Year of Return festivities – DKB
"And for you to be asking questions; 'when the comedy started where were you?' Na you DKB, when the comedy started where were you? Because me, the drama studio that you are talking about that is where I was born. The days when audience and performers would share the same stage because it was raining, I was there. How can you come from Agric to theatre arts and come and ask where was Clemento Suarez?" he asked.
In the meantime, DKB has vowed never to talk about any bad experience he has had with Charterhouse, again.
'Joy Entertainment Unpacked' Twitter Spaces conversation is hosted by Kwame Dadzie Wednesdays on Joy FM's Twitter handle @joy997fm.