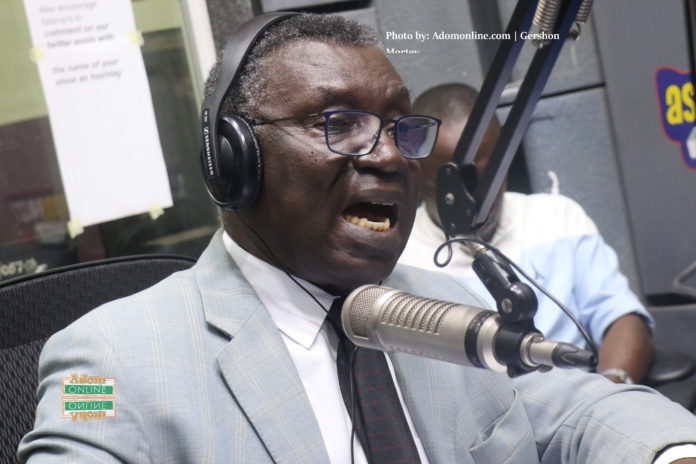 Former Minister for Environment, Science, Technology, and Innovation, Prof Kwabena Frimpong-Boateng, has revealed there are persons at the Jubilee House involved in galamsey.
According to him, these elements and some members of the New Patriotic Party (NPP) conspired in a grand scheme to oust him from office to give way for them to resume the illegality.
He made the disclosure in an interview with Accra-based GTV, stating his removal indeed opened the floodgate for these elements.
"It was an orchestrated scheme even within the party and government to get me out", Prof Frimpong-Boateng alleged, pointing out: "Why is it that when I left, now everybody is in the forest?
"At that time, you dare not enter the forest. But, as I said, I don't want to go into details now because I have a lot to say about that. But let me tell you that I did not take one excavator for anything. And, they know the truth," he stated.
Prof Frimpong-Boateng in May 2020 during an interview with the King of satire, comedy and talk show host, Kwaku Sintim Misa stated that Ghana is not worth dying for.
The good Professor said it is not easy to work for the ignorant and ungrateful.
It is believed his comments had to do with attacks and allegations leveled against him over the disappearance of some excavators and his involvement in illegal mining.
ALSO READ:
Frimpong-Boateng exposes NPP over missing excavators
But setting the records straight, the former Minister told GTV no excavators went missing, adding it was a baseless orchestration and fabrication.
He, however, noted the persons who did that are known but did not disclose their identities.
"Now, things are coming out. We know those who are behind it and the party people who are there, people in government, including Jubilee House who are doing galamsey and so on even now. So, let Frimpong-Boateng be in his corner to enjoy his retirement," he said.
Play audio above: