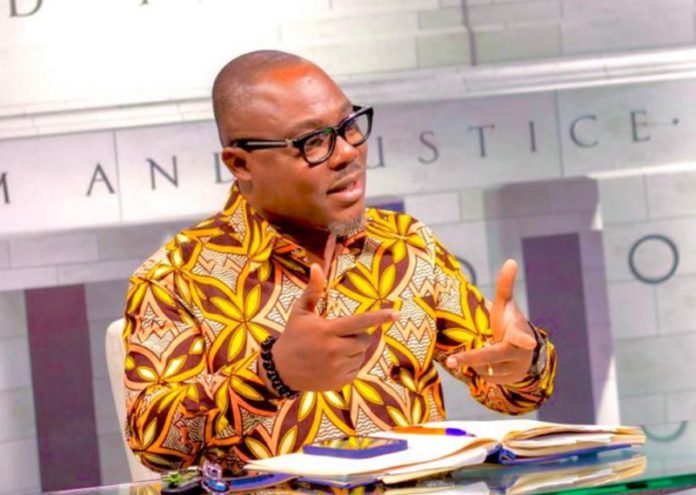 A Senior Political Science lecturer, Professor Ransford Gyampo, has stated that the disruption of aspiring New Patriotic Party (NPP) flagbearer, Alan Kyeremanten's speech by Vice President, Dr Mahamudu Bawumia's arrival during the party's final Assin North campaign was deliberate rather than a mistake.
According to him, the act was orchestrated to embarrass and humiliate Mr Kyeremanten.
He indicated that "Deep down I don't think the apology is genuine.
"I do not believe that it was not orchestrated. If you are well organized, the advance team will notify anyone on when or not to arrive. They could have simply told him (Bawumia) to wait in his car until Alan Kyeremanten finishes his speech so that everything ends well. But the manner in which he was stopped, I thought it was not a fault or a mistake, it was orchestrated to humiliate and to embarrass him," he said on Accra-based UTV.
"NPP is a big party with so much knowledge and experience so they knew what they were doing, Even if there was a fault they could have politely told the VEEP to wait then politely and personally tell Alan that the VEEP has also arrived so he should be brief. How did they not have that sense?" he fumed.
Prof Gyampo blamed party executives for overlooking and their favoritism towards some aspiring flagbearers.
He indicated that there will be serious repurcussions if any of the presidential aspirants parts ways with the party.
"It fits into the perception that sometimes the party's top etchlones have taken sides and if they don't let the field get levelled, the party will pay dearly for it. I have noticed that some of them if the field play is not levelled and someone feels he or she has been cheated, he will break away. And the caliber of people who are now leading the NPP and those who are seeking to be flagbearers won't be like the people they yesterday thought will be constituting themselves into third forces after their defeat.
"They will join forces with their followers and friends in the NDC which will deduct some votes of the party. The personae and the pedigree of the caliber of people seeking to be flagbearers of the NPP now are not like Paa Kwesi Nduom and the likes. These are dire, these are politicians who have followers. The following of Mahamudu Bawumia, the following of Alan Kyerematen are bigger than all the other personality that wanted to constitute themselves into third force," he explained.
National Organizer of the NPP, Henry Nana Boakye, apologised for the disruption which he claims was a mere communication problem between the organisers and the handlers over the time of arrival.
ALSO READ: