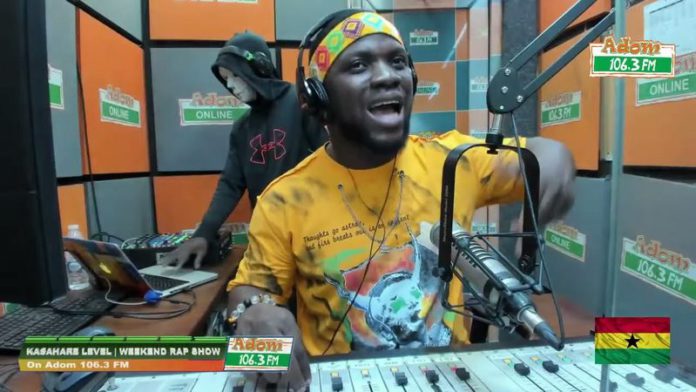 The quest to find the next rap biggest music star is airborne by Ghana's number-one local radio station, Adom FM's Kasahari Champions League.
Juxtaposed with the football league's UEFA Champions League where top gunners unleash their arsenals to score league points until finals, there exists a round 32 fixture table for the 32 rappers selected to battle.
Every Saturday from 7 pm to 10 pm, the budding rappers, stemming from various localities across the country, will be in the studios to face off in the fierce competition.
The host remains the untiring Don Itchi, who is set to steer the affairs of the rap competition to its utmost realm.
Patrons are urged to join us at Green Lounge, Tema Community 8 on the 11th as we begin the battle and on the 18th at Delish Restaurant at East Legon for the 2nd battle.
Meanwhile, the competitors are to note that, judges will be present, to sum up scores and present votes in addition to comments right after the "Area Guys" mini battle.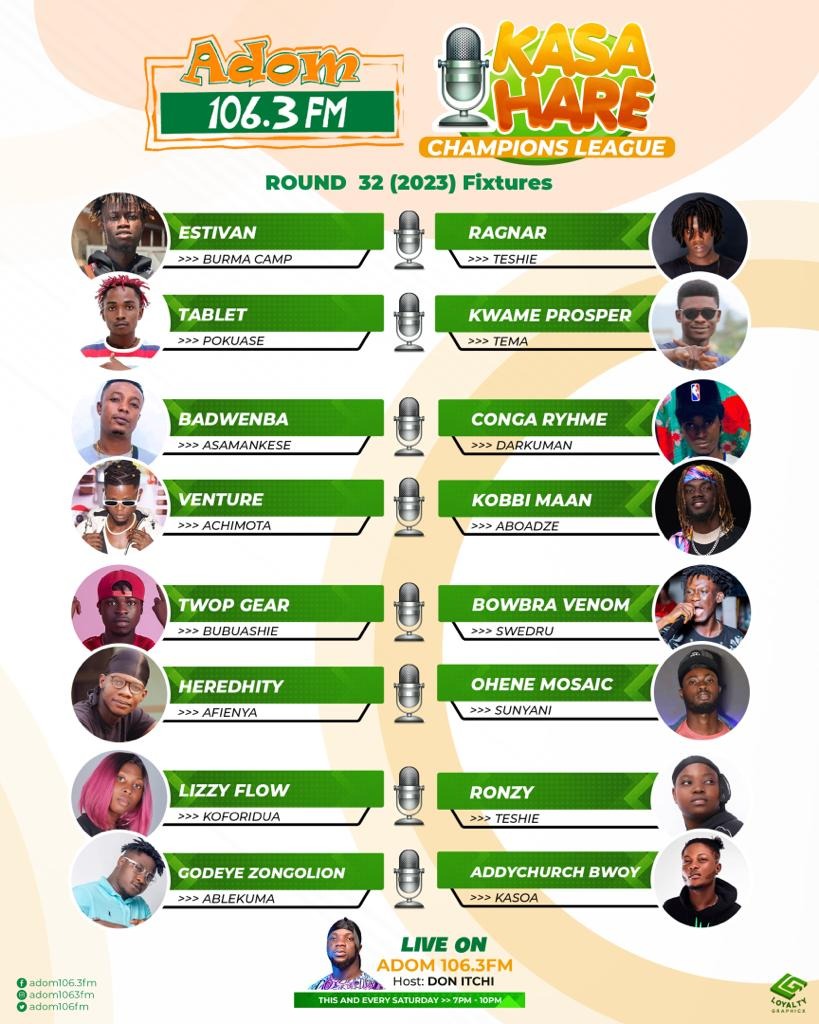 From the Round 32 fixture, the Kasahari Champions league numbers will be reduced to Round 16, then to Rounds '8 and 4' before a scheduled date will be allocated for the final battle.
There will be ultimate prizes and a recording deal for the rapper who emerges winner in the Kasahari Champions league – one of the capabilities of the show powered by Adom FM is to project talents to their brim.
Adom FM's Kasahari Level show has since produced most of Ghana's ace rap musicians including the likes of Sarkodie, Kwaw Kese, Edem, Ponobiom, and Pope Skinny among other rappers who have equally carved niches for their brands through the prolific show.
Rappers set for the show (in no order):
Estiva (Burma Camp) vs Ragnar (Teshie)
Tablet (Pokuase) vs Kwame Prosper (Tema)
Baswenba (Asamankese) vs Conga Rhyme (Darkuman)
Venture (Achimota) vs Kobbi Maan (Aboadze)
Twop Gear (Bubuashie) vs Bowbra Venom (Swedru)
Heredity (Afienya) vs Ohene Mosaic (Sunyani)
Lizzy Flow (Koforidua) vs Ronzy (Teshie)
Godeye Zongolion (ABlekuma) vs Addy Church Bwoy (Kasoa)
Omar Burner (Kasoa) vs Emrys (Oda)
Kwesi Slim (Abeka) vs MG 1 (Teshie)
Pawez RTB (Kasoa) vs City Vibez (Darkuman)
Kobby Jumbo (Teshie) vs Kapalas (Gomoa)
Wondakid (Ada) vs Lyfless (Kasoa)
Demson (Achimota) vs Jaydeezy (Ablekuma)
Hi Spirit (Techiman) vs Kweku Wina (Kumasi)
Kojo Beezy (Sowutuom) vs Yaw Mular (Teshie)
Fans are expected to come prepared because there is an equal opportunity for them to show their rap prowess at any of our advertised venues.
Also, there will be exciting giveaways from our sponsors every week.
Kasahare Level! Energy! Energy! Energy!