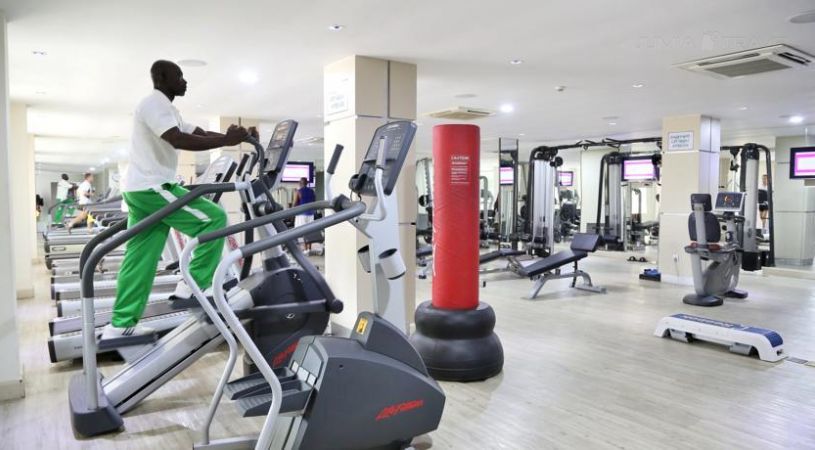 Up, Down: yes, come on, you can do it! Keep fit and have fun doing it; the gym life is the now like ketchup in everyone's hamburger. The week is never complete without a trip there for corporate Ghana. Some big businesses like MTN and Lloyds Plaza have incorporated gyms into their facility for staffs.
And it seems like they aren't the only ones catching the fever. Leisure travellers and tourists won't hesitate to cross off hotels lacking gyms from their list of hotels in Ghana to be considered. But how at all has this energy-draining, rib-cracking, sweat-producing, pant-inducing activity called gym metamorphosed into a necessity?
Today scores of Ghanaians are setting up a bit of the facility at home. With what they say about a break in visiting the gym disorienting the body, the tradition must continue everywhere you go. If you are always on the move, a business traveller, a tourist or even on exercise medication, there must be a way out.
The solution is in facilities that are so close to us yet are fully business-minded and seldom overlook quality and class. The answer is with hotels in Ghana creating another world with eye-catching and pulling gymnasiums. Thank God for hospitality; praise His name for the hotels that are home-minded and trendy. They envisage the need of the times and act swiftly accordingly. Life goes on like usual with these bunch around.  
However, this appraisal does not go for all hotels. And certainly, the marks are uneven for those with the gyms. As we say it in Twi, "ebi didi bi akyi"(not all the gyms are the same). No doubt, it is better with a list of great hotels offering some very cool gymnasiums. Nodding? Then, let's take a look at 5 of the top Accra hotels with the best gyms that 'wow' everyone.
Accra City Hotel
Accra City Hotel needs no introduction. In the business in Ghana, it has the accolade for giving its guests( mostly business guys) optimal satisfaction. Their now found gym crazy is one main reason why Accra City holds that title. The Accra City hotel gym is Standard and in a class of its own. On a normal day elsewhere, using a facility like this for a year will break the bank. It is well-equipped and the best part is, the trainer are on hand to get you sweating the right way.
Among the top Accra hotels with the best gyms, Midindi Hotel is smart. The idea to have a gym added to their facility caps a team( the Midindi team) that is ready to make money in hospitality. And oh boy! Did they kill it with the state-of-the-art gym. Being one of the biggest and trusted gyms in the Cantonments locality, surely, they will be in business for a long time to come.
Urbano hotel has shown that it was steps ahead of the others when it decided to use its strategic location to an advantage. It built classic standard gym ensuring that all business travellers who set their Urbano Hotel could not look away. It gets better now that inhabitants acknowledge the Urbano gym as theirs.
Swiss Spirit Hotel and Suites Alisa Accra
This list is not luxury hotel bias.  Nonetheless, it will be a cardinal error to omit Swiss Spirit Hotel and Suites Alisa Accra. Swiss Spirit Hotel and Suites Alisa Accra is beautiful throughout including their gym. It is these kinds of gyms that make workouts look like play. What weight, dumbbell or treadmill do you need that you cannot find at Swiss Spirit Hotel and Suites Alisa Accra.
A luxury beach resort in a terrific location was not enough for Ramada Resort. Whether it was for the luxury attribute or a sheer eye for business, Ramada Resort stands alone in the whole of Teshie with its classy gym. Tourists are well catered for a Ramada because whatever they want, including a great place to keep fit are all available at Ramada.