British Prime Minister Theresa May claimed there was "too much tolerance" of Islamist extremism in the UK as she vowed a clampdown in the wake of the third terror attack to hit the UK this year.
Seven people died and 48 were injured when three masked men drove a van into pedestrians on London Bridge before leaping out and launching a stabbing spree in nearby bars and restaurants.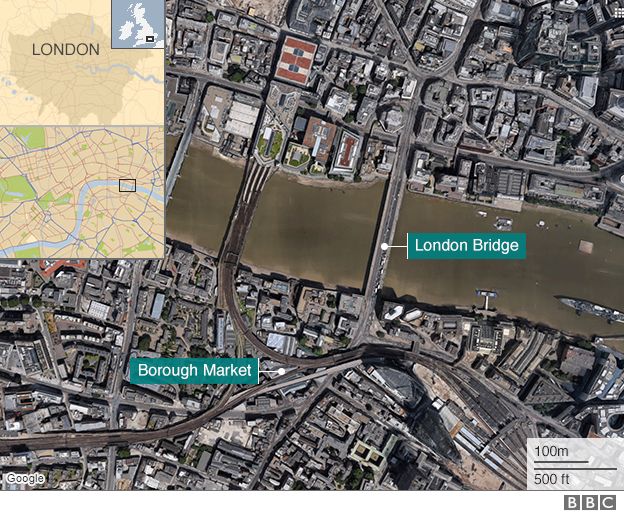 Police said the three attackers, wearing fake suicide belts to sow further panic, were shot dead within eight minutes of police receiving the first emergency call just after 10 p.m. local time.
Speaking in Downing Street five days before the UK general election, May described the latest attack as "brutal" and said extremism had to be defeated. "We cannot and must not pretend that things can continue as they are," she said. "Enough is enough."
• Large area south of London Bridge cordoned off as intense police investigation continues.
• Some of the surviving victims have life-threatening injuries.
• May says police have disrupted five "credible" terror plots since Westminster bridge attack in late March
• Major parties suspend general election campaign for a day but vote will go ahead on Thursday as planned.
While May insisted that the recent attacks in Westminster, Manchester and London Brige were unconnected, she warned that they were bound together by the "single evil ideology of Islamist extremism."
"It is an ideology that claims our Western values of freedom, democracy and human rights are incompatible with the religion of Islam," she said.
"It is an ideology that is a perversion of Islam and a perversion of the truth.
"Defeating this ideology is one of the great challenges of our time, but it cannot be defeated by military intervention alone.
"Since the emergence of the threat from Islamist-inspired terrorism, our country has made significant progress in disrupting plots and protecting the public. But it is time to say `Enough is enough'."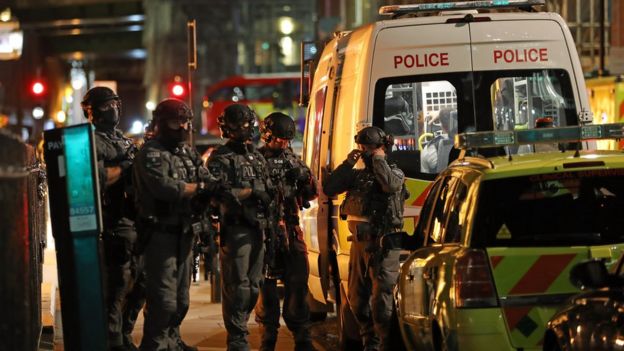 The attack began late Saturday night, when a white van swerved into crowds of pedestrians on London Bridge, leaving bodies lying in the roadway, according to witness reports. At least one pedestrian is thought to have jumped into the Thames to escape being hit.
The suspects are then believed to have exited the van and proceeded on foot towards the nearby area of Borough Market, one of the capital's most popular nightlife spots.
Eyewitnesses spoke of panic as three men armed with "foot-long" knives burst into packed restaurants and cafes, slashing at those inside indiscriminately. Many customers fought off the attackers, using chairs, pint glasses and bottles. Others hid behind tables and inside bathrooms or attempted to flee.
In total, the marauding attack lasted approximately eight minutes, according to police, who shot dead all three known suspects at the scene. At least one of the suspects appeared to be wearing a suicide bomb vest, though this was later confirmed by police to be a hoax.
The London Ambulance Service, who dispatched upwards of 80 medics to help deal with the incident, said at least 48 people were taken to five hospitals across the capital, with many more treated at the scene. French and Australian nationals have been confirmed by their respective governments as among those affected.
A police officer who was responding to the attack on London Bridge was also stabbed. The officer received serious but not life-threatening injuries, according to an official police statement.
Heightened state of terror
The third terrorist attack to have occurred in the UK this year and the second in London, Saturday's attack will renew the debate around the safety of the capital in light of the increased terror threat.
In a press conference Sunday morning, London Mayor Sadiq Khan praised the quick police response and asked Londoners to remain calm and vigilant. This is the second time Khan has addressed the public in response to a terror attack since becoming mayor, and he repeated his previous insistence that London remains one of the safest global cities in the world.
"We will not be cowered by terrorism and we will not let them win," said Khan, who promised an increased police presence throughout the capital in the coming days.