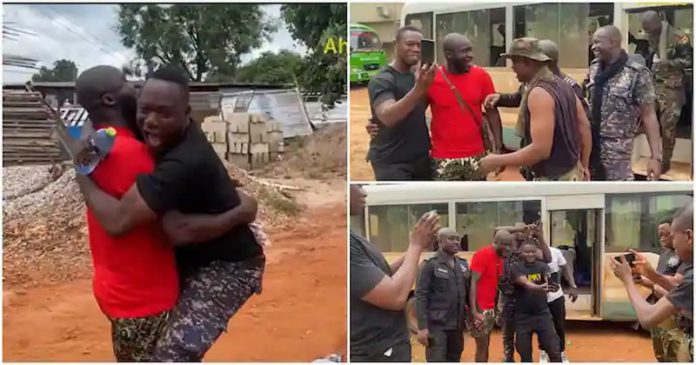 A video of Ras Nene, a popular skit actor, has gone viral on social media, showing him being warmly received by a group of soldiers and police officers during his visit to Techiman.
As soon as the service personnel saw the friendly actor, they were thrilled and showered him with praise, expressing their admiration for his talent and taking pictures with him.
The soldiers and policemen were excited to meet one of Ghana's most beloved comedians and did not hold back their excitement.
Social media users have been impressed by the video, with many highlighting the tremendous love and support Ras Nene enjoys on the streets.
The comment section of the video is full of praises and accolades for the actor, with many applauding him for bringing joy and laughter to the lives of Ghanaians.
Ras Nene's popularity has surged in recent years, as his hilarious skits and unique style of comedy have gained him a massive following on social media.
His ability to make people laugh has endeared him to many Ghanaians, who view him as a source of inspiration and entertainment.
ALSO READ: