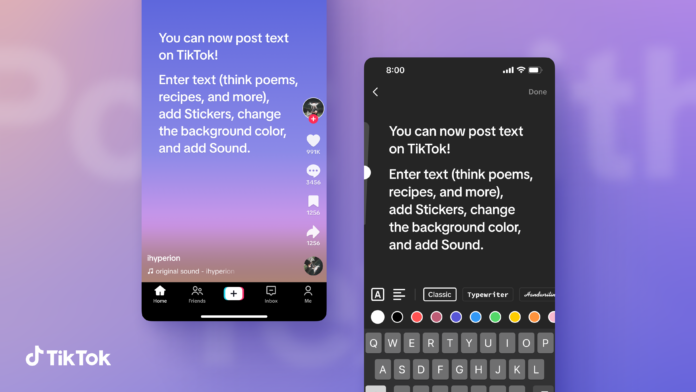 Chinese-owned video streaming app TikTok says it will offer text-only posts as competition between social media giants heats up.
The platform says the new feature gives users "another way to express themselves".
Earlier this month, TikTok launched a new music streaming service to rival platforms like Spotify and Apple Music.
And on Monday, Elon Musk's Twitter ditched its famous blue bird logo and switched to a black and white X.
TikTok's users will now be offered three options on the app – whether to post photos, videos or text.
They will also be able to customise posts by adding sound, location or Duets, which are video reactions to posts by other TikTok users.
"These features make it so your text posts are just as dynamic and interactive as any video or photo post," TikTok said.
TikTok, which is owned by China's ByteDance, recently launched a new music streaming service, TikTok Music, in Brazil and Indonesia.
Last week, the company also rolled out a beta version of the service in Singapore, Mexico and Australia.
A spokesman said it would allow users to "listen, share and download the music they have discovered on TikTok, as well as share their favourite tracks and artists with their TikTok community".
The app is testing other features including a new landscape mode with select users around the world.
In 2021, TikTok became the world's most popular online destination as it had more hits than US search engine giant Google.
That year, the app also said it had more than one billion active users globally.
Competition between rival social media firms – such as Instagram owner Meta and X, Mr Musk's rebranded Twitter platform – have heated up in recent weeks.
This month, Meta's new Threads platform went live on Apple and Android app stores in 100 countries, including the UK.
Meta boss Mark Zuckerberg later said his company's Threads platform had signed up more than 100 million users in less than five days.
Also this week, the blue bird branding on social network Twitter was replaced by a logo featuring a white X on a black background.
The term tweets will also be changed to "x's", according to Mr Musk.
MORE: