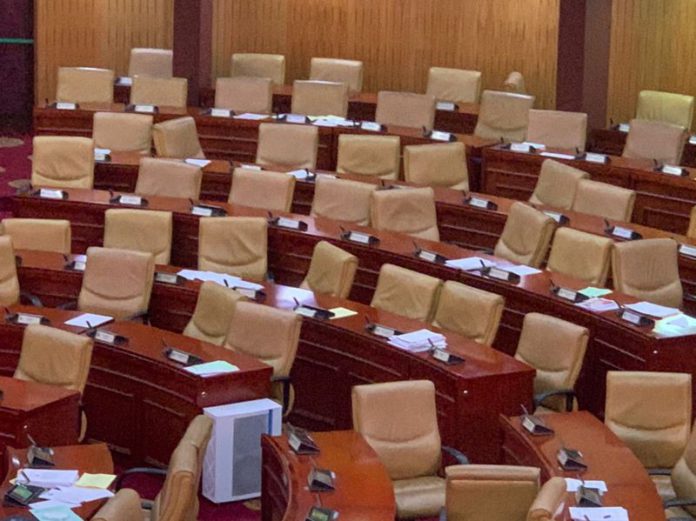 National Democratic Congress' (NDC) Election Committee Member, Mahdi Gibrill, has confirmed that Member of Parliament (MP) for Domeabra-Obom, Sophia Ackuaku, has not filed for nomination.
He indicated that there will be no by-election in the constituency because the sitting MP is only switching to another constituency and not parties.
According to him, Ayawaso Central is among some 27 constituencies where nominations have not been opened yet.
"It's true that we've heard that our MP for Obom-Domeabra wants to contest elections in Ayawaso Central.
"Ayawaso Central is among the 27 constituencies the party has decided that we are not opening nominations for now.
"Vetting has started for those contesting Obome Domeabra's seat but for Ayawaso Central not yet.
"Per our records, she has not filed for the Domeabra constituency."
He went on: "There are no implications. The only implication she'll have will be personal if she's unable to win the primaries. But for her filing nomination at another constituency as a sitting MP will have no implications."
"Some may think due to this there will be a bye-election in Obome Domeabra, but that is not the case. She has not left the NDC party, she is just saying that in the next elections, she will not compete in her current constituency but in another constituency on the ticket of the NDC," he said.
Mr. Gibrill stated that the reason for the MP's decision is unknown, however, her performance during the vetting process will prove whether or not she is capable of winning the primaries and the 2024 elections.
He added that NDC's track record at Ayawaso Central is a good one, hence victory is assured.
"We haven't asked the reason for her switching all we are concerned about is whether she qualifies to contest at the new constituency.
"When it gets to vetting, we'll know for sure if she is able to contest lawfully."
"The NDC has a good track record at the Ayawaso Central Constituency. We are worried but winning a seat is not about individual efforts it's about the party's work."
Greater Accra Regional Minister, Henry Quartey, is the incumbent Member of Parliament for Ayawaso Central, currently serving his third term in office.
ALSO READ: