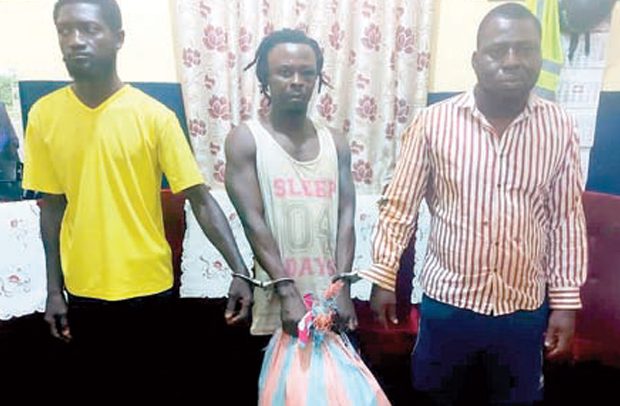 The Western Regional Police Command has arrested three armed men who attacked K.K Gold, a gold-buying agency at Tarkwa in the region and robbed them of gold and money. 
The three suspects were among about six armed robbers who attacked the gold-buying shop at Ackon near Tarkwa on Tuesday, April 18, 2023, between 6:30 pm and 7 pm.
The names of the suspects were given as Samuel Amaesh, 47, a Togolese; Ezekiel Stephen, 45, a Nigerian and Fataw Dawda, 42, a Ghanaian.
Information gathered indicates that the robbers who were wearing helmets and face masks entered the agency and subjected the workers to severe beatings at gunpoint.
They succeeded in collecting an unspecified amount of money and gold of about 108.50 grams valued at GH¢613,000 and sped off with three motor bicycles.
Immediately the Regional Police Command was informed about the incident, the Regional Commander, ACP Owusu Boampong tasked all District Commanders and the Police Intelligence Directorate (PID) to be on lookout and arrest the suspects.
The police gathered that the robbers used the Banso Essouso Bonsawire road, so all the surrounding villages were alerted.
A statement from the police said at about 9 pm same day, two of the suspects, Samuel Amaesh and Ezekiel Stephen were arrested at their hideout at Essouso with assistance from the youth of the area.
ALSO READ:
Three robbers attack gold dealer; bolt with GH¢500K
Armed robbers steal gold worth $350,000 from mining company
A sack containing GH¢397,190 and 4.7 grams of gold was retrieved from them.
On Wednesday, April 19, 2023, the PID acting upon intelligence arrested the third suspect, Fataw Dawda.
All three suspects are in police custody in Tarkwa and would soon be arraigned before court, as the police are making efforts to apprehend the other suspects.