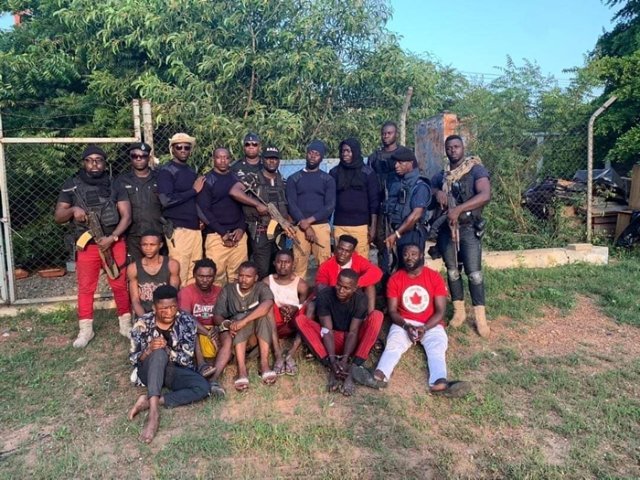 Three persons charged over the kidnapping of two Canadian women have accused officials of the Bureau National Investigations and Police CID of torturing them over the past three weeks. They have pleaded with the judge hearing the case to either grant them bail or have them moved to another facility.
The first accused, Romeo Aghalor, alleged he had been forced to sign a statement confirming actions he did not engage in. He told the court he was not totally innocent of accusations leveled against him but additional facts have been added to his case. He also took the opportunity to apologize to the Canadian girls, their families and the Governments of Ghana and Nigeria for participating in the crime.
Yusif Yakubu who is the fourth accused person also alleged that hot water was poured on him causing injury to his back while in custody. The 8th accused person Seidu Abubakari who had legal representation also made similar allegation.
ALSO: Million-dollar bus terminal abandoned as drivers break laws in search of passengers
Justice George Boadi asked Seidu Abubakari to take off his shirt for examination and remarked "there are no visible signs of injury". He advised his lawyer Andrew Vortia to investigate the claims and make the application for bail upon his findings.
Senior State Attorney Hilda Craig described the allegations as "fabricated stories aimed at making the BNI look bad". She insisted no one had been assaulted adding that keeping them in the custody of the BNi makes the work of investigators easier.
ALSO: Insulting female politicians will soon become a crime – Sarah Adwoa Safo
She also informed the court that investigations were ongoing and attempts were being made to engage the victims who have traveled to their native Canada. She explained the investigators were in touch with them and needed two weeks to conclude that aspect of the case.
The court has meanwhile issued a warrant for the arrest of two persons identified only as Derry and Mohammed following an application by the senior state attorney who explained they are connected to the crime.
ALSO: Torture Home 2: When sodomy, sexual exploitation takeover Orphanage
Justice Buadi remanded all 8 accused persons into the custody of the BNI adjourning the case to July 15.
Source: Ghana|Joy News|Joseph Ackah-Blay