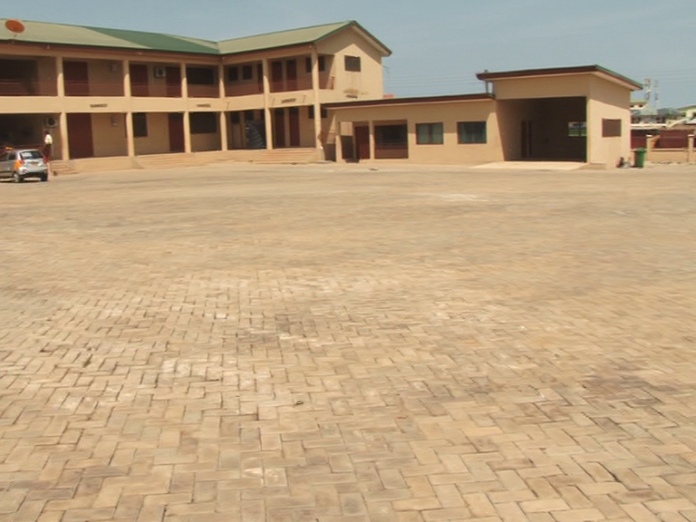 Commercial drivers at Anyaa Market and its environs continue to jostle on roadside for passengers at the expense of pedestrian safety because a newly constructed bus terminal at Ga Central Municipal Assembly has been abandoned after years of construction.
The terminal, funded by the African Development Bank Group and cost millions of dollars, is yet to be opened for business.
The idleness of the facility, which can accommodate more than 200 vehicles at a time, has compelled some drivers to create unauthorised loading points along the Anyaa Market and on the main road.
Weeds have started growing in parts of the facility

Adom News reporter Kodwo Mensah Aboroampa reported that the facility has a CHPS compound which is being occupied by squatters.

Some of the drivers expressed worry about the delay on the part of the Assembly to open the bus terminal to safeguard their operations in the area.

"There is no large area for us to either load or drop passengers. We are forced to disobey traffic regulations because we cannot move about with empty vehicles," Benjamin Quaye, a Ghana Private Road Transport Union member, complained.
Another driver, Graham Botwe told Kodwo Mensah Aboroampa, the terminal, which is meant to be used by drivers, now serve as recreational centre where churches and other social organisations organise events.

The drivers, therefore, appealed to the Ga Central Municipal Assembly to, as a matter of urgency, open the facility for use.

When Adom News visited the project site, it observed that the bus terminal had been abandoned with weeds all over the place.
Traders at Anyaa Market are blaming poor sales at the trading centre on the abandonment of the place by authorities.
All attempts to get the Ga Central Municipal Assembly for answers proved futile. However, sources within the Assembly told Adom News a court case and other factors were responsible for the delay in opening the facility for use.
Source: Adomonline | Kodwo Mensah Aboroampa | Adom News