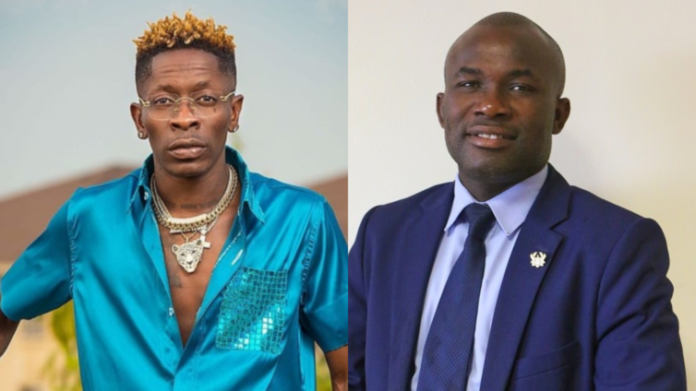 The Director General of the National Sports Authority, Professor Peter Twumasi,has responded to claims by Shatta Wale that he has been unfairly treated by the authorities of the Accra Sports Stadium with regard to his forthcoming Freedom Wave Concert.
Shatta Wale in Facebook Live video on Tuesday, September 19, 2023, alleged that the authorities of the stadium had been influenced by external forces to allow his arch-rival Stonebwoy hold his Bhim Concert three days before his. 
According to Shatta Wale who has scheduled 25th December, 2023 for his Freedom Wave Festival with Medikal, he cannot use less than three days to set up for his show after Stonebwoy's show on December 22.
"You told my team that to do a show at the stadium one needs three days to set up. So if you are doing your show on 25th, you need three says ahead t set up – 22nd, 23rd, 24th. That is what you told my team," he said.
He [Stonebwoy] could have done his maybe 10th December, or any other day in December. Why eat into our time. Why? And the Prof said they will look into it," he further stated.
In an exclusive chat with Joy FM, the Director General of the National Sports Authority, mentioned that, they had several meetings with both parties and they agreed to their conditions. 
"We met with his team and agreed on these conditions. They're ok," he noted.
He has also indicated that, no one has prevented either party from holding their show on their respective dates.
"25th December booked for Shatta, 22nd for Stone, and others have different dates in December," he added.
Also, Chief Abiola, the road manager for Stonebwoy in an interview on Hitz FM said though they were ready to collaborate with Shatta Wale to share logistics to ease drudgery on setting up for the Freedom Wave Concert, he [ Shatta] Wale ignored them.
"I got feedback from Sammy Flex that Shatta Wale was not happy with the timing so we should push for more time for them to set up. So I also took it back to my team, had a back and forth with them and there okay.
We decided to shift the date from 23rd to 22nd which was giving Shatta's team two or three days clear before their event, so it was enough time for them to do whatever set up they want to do," he added.
In a recent Facebook live video, however, Shatta Wale has assured his fans that the festival will be held on 25th December, regardless of the challenges. 
Other activities for the 5-day festival include arrival of regional fan bases, exhibition of Shatta Movement merchandise, pre-concert with new artistes, dress rehearsal for artiste and the main concert. 
MORE: