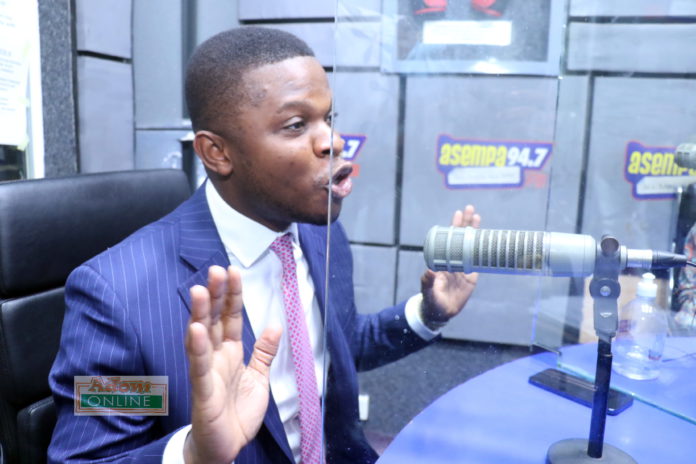 The National Communications Officer of the National Democratic Congress (NDC) has downplayed the decision of the New Patriotic Party (NPP) to respond to its True State of the Nation Address.
Sammy Gyamfi has said the NPP has nothing to say to Ghanaians and there is no need for a rebuttal.
"Akufo-Addo presented the SONA and the opposition responded with the 'True State of the Nation Address' so what will theirs be, By-SONA?" he quizzed amidst laughter.
The NDC, led by its National Chairman, Johnson Asiedu Nketia, during the said press conference on Monday made some allegations against the Akufo-Addo-led government, describing the claim by the President to revive the country's economy as a scam.
For General Mosquito, the President and his appointees have plunged the country into a ditch due to recklessness and mismanagement.
However, the General Secretary of NPP, Justin Kodua Frimpong, said the press conference was deliberately organised by the NDC with the sole intention to throw dust into the eyes of Ghanaians.
He has, therefore, served notice that it will also organise a press conference to correct the misconceptions that the NDC has created in the minds of the public.
But Mr Gyamfi on Adom FM's Dwaso Nsem questioned why JFK will bring this upon himself.
ALSO READ:
NPP to respond to NDC's 'True State of the economy address'
Akufo-Addo has lost touch with reality – Sammy Gyamfi
To the outspoken politician, it is important for government to admit Ghanaians are suffering and find measures to resolve the existing challenges.
"Justin Kodua is my very good friend and I don't think he should come out to do this. The Minister of Information cannot even defend the government so what is he possibly coming to tell Ghanaians again?
"The centre is not holding for NPP. Things have fallen apart and some NPP gurus have attested to that," he stated.
Play the audio above: