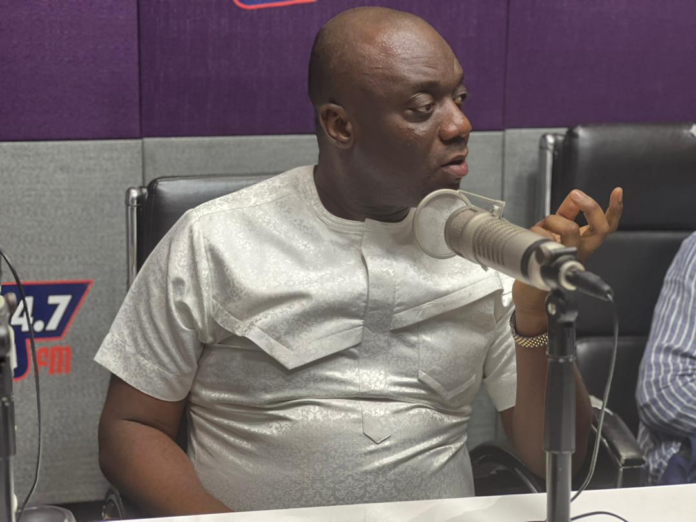 The ruling New Patriotic Party (NPP) is set to respond to the press conference organised on Monday by the opposition National Democratic Congress (NDC) to discredit government.
The NDC, led by its National Chairman, Johnson Asiedu Nketia, during the said press conference which was tagged 'the true state of the nation address' made some allegations against the Akufo-Addo-led government, describing the claim by the President to revive the country's economy as a scam. 
For the NDC chairman, the President and his appointees have plunged the country into a ditch due to recklessness and mismanagement.
However, reacting to the NDC press conference in a statement Monday evening, (March 20, 2023), the General Secretary of the NPP, Justin Kodua Frimpong, said the press conference was deliberately organised by the opposition party with the sole intention to throw dust into the eyes of Ghanaians.
The party has, therefore, served notice that it will also organise a press conference to correct the misconceptions that the opposition party has created in the minds of the public.
NPP Statement
FOR IMMEDIATE RELEASE
MARCH 20, 2023
RE: THE TRUE STATE OF THE NATION ADDRESS; NEW PATRIOTIC PARTY TO RESPOND IN DUE COURSE
The leadership of the New Patriotic Party (NPP) has taken notice of a propaganda-laced press conference of the NDC, addressed by Johnson Asiedu Nketiah, the Party's National Chairman, on Monday, March 20, 2023, which was mischievously described as an address on the so called 'true state of the nation'.
True to their unrepentant character, the NDC turned the press conference into a campaign platform, peddling blatant falsehoods, unsubstantiated allegations, and unprovoked attacks at the persons of the President, the Vice President and the Government of the NPP.
Ordinarily, the NPP would not have dignified Asiedu Nketiah's empty statement and unmeritorious effusions with a response since he is no stranger to Ghanaians when it comes to such political theatricals.
However, paying regards to the enormity of the allegations and falsehoods he spewed, the NPP has decided to set the records straight by responding to same with incontrovertible facts and data in order to assist discerning Ghanaians make an informed decision.
Details of the NPP press •conference to respond to the NDC's misrepresentations on the state of the Nation would soon be made available. Notice is accordingly served.
Signed
JUSTIN KODUA FRIMPONG
GENERAL SECRETARY